The ALIGN blog captures diverse and topical opinions on gender norms change from across our Community of Practice.  If you have an idea for a blog, contact us. 
Featured content
By Bassam Abu Hamad
Although Gaza is part of what is religiously perceived as a blessed, holy land of peace, it is a cursed place that has seen protracted conflict for decades, tangibly affecting the mental health and psychosocial wellbeing of adolescents.  
A blockage, imposed on 2 million Gazans since 2006, continues to restrict movement of people, goods and services and has seen border crossings closed. The United Nations repeatedly calls it a "protracted human dignity crisis" and a collective punishment."  
Our context lacks support for the psychosocial wellbeing of adolescents, with 51% showing symptoms of post-traumatic stress, anxiety, depression, increased violence, nightmares, bet-wetting and loss of hope, among others. With strong gender norms in the region, girls are especially affected. The prioritisation of physical needs during emergency assistance often comes at the expense of psychosocial aid.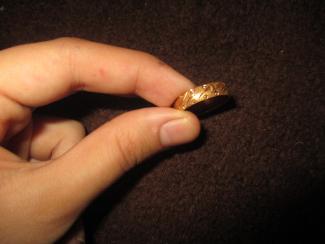 A few weeks ago, I met several child brides, who described their marriages as a "jail that ended their childhood." Here in Gaza, 28% of girls are forced to marry before the age of 18. I walked into Jabalia refugee camp in Northern Gaza; its simple concrete buildings reaching as far as the horizon. Between countless of houses and people, I found Aliya*, 16. Pregnant, she spent most of her time inside. "I tried to end my life twice," she told me. Our meeting ran longer than anticipated. I knew that Aliya wanted to be heard and share her thoughts. The lives of Gaza's child brides are hidden and lonely. Sabiha*, now 18, who also lives in a refugee camp, told me that she felt "deprived" of everything. "You feel kidnapped and overwhelmed with responsibilities," she said, adding, "I can't go out. I lost my childhood, my education, my everything."  
Gender norms contribute to gender vulnerabilities; discrepancies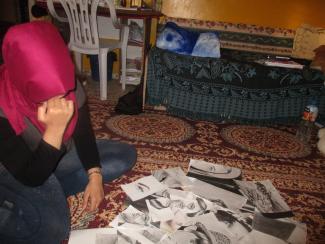 In the Gazan context, females tend to suffer more than males. Girls experience a double burden, as they are constrained by restrictive cultural norms. Conservative social norms, such as child marriage, restriction on movement, overprotection, 'family honour', sexual harassment, and lack of privacy at home create additional stressors. Girls report feeling unprepared for puberty and the physical, mental and emotional changes it brings, with 28% stating this phase had caused them problems and 40% admitting they were afraid of their first period (UNFPA, 2016). 
Child brides described their first day of marriage as the worst experience of their life that has negatively influenced their psychosocial status, especially those who were unaware that they would be expected to engage in sexual intercourse.  
Boys are allowed to go outside with their peers almost without restriction, with 64% of girls reporting that they aren't invited to go out with friends, reflecting cultural restrictions on mobility. Due to conservative cultural gendered norms, girls have few opportunities for socialising, therefore they report using the internet or watching television more than boys, particularly because of their restricted mobility. 
Mental health services in Gaza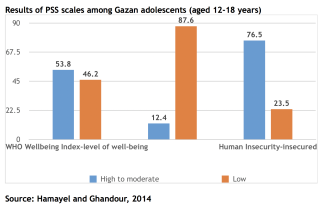 My research reveals a worrying increase in the number of adolescents adopting harmful risky behaviours such as drug use or even attempting suicide, especially among girls. Females who have dropped out of school are among the most vulnerable, as they are often socially isolated and tend to score lower when it comes to psychosocial wellbeing.  
Widespread gender-based violence additionally damages girls' and women's self-esteem and mental wellbeing, yet out of 51% of married females exposed to violence in their homes, less than 1% approached formal aid services.  
Although there are many psychological and mental health providers in Gaza, I found that formal services make a minimal contribution to adolescents' support networks. Many are too fragmented and reactive and neither age nor gender sensitive. Programmes often focus on younger children or older women and the locations of service providers are largely unknown.  
Going forward, we need more cross-sectoral interventions that consider the multi-faceted nature of psychosocial wellbeing and a greater awareness of the gendered norms and practices that influence mental wellbeing in a conservative context such as Gaza. Gender norms play a key role, particularly surrounding issues of stigma and marriage and psychosocial programmes need to address such gender inequalities.  
However, throughout the context's difficulties, adolescents - and especially girls - keep looking to the future. They take inspiration from their own self-assertiveness, the power of education and their families. Girls, according to self-esteem index, show an average score of 73 percent.  
*name changed to protect the girl's identity.  
About the author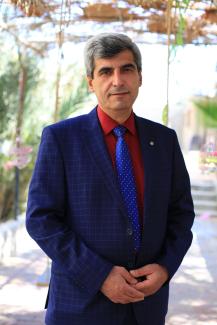 Bassam Abu Hamad is a Palestinian Public Health Specialist who has worked in education, social services and        health for the past 32 years. He is the General Coordinator and Associate Professor at the School of Public  Health of Al-Quds University in Jerusalem, and the manager of its Gaza Branch. Bassam is Regional Director of the
Gender and Adolescence Global Evidence (GAGE) programme
 and researches health, psychosocial impacts, poverty, vulnerability and social protection in Gaza. 
ALIGN Technical Advisor Rachel Marcus and Programme Manager Cristiana Conte attended the Social and Behaviour Change Communication Summit (SBCC) in Bali, Indonesia, from April 16-20, 2018. With more than 1000 delegates, and five packed days of sessions, Rachel Marcus writes about just some of her highlights from thematic discussions and presentations.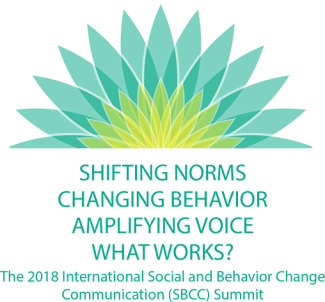 A thread running across many discussions was the importance of starting 'where people are and accompanying them on a journey'. This might start with information, and introduce new ideas, but the route and the destination will depend on who is travelling. Participants in community-based processes or users of media content may 'travel' to places never envisaged by the programme creators.
These insights have clear implications for initiatives to transform gender norms, a key theme running throughout the summit. Many community-based life skills programmes – both those working with girls and women, and boys and men – started with activities to share valuable information, build self-confidence and leadership skills and sometimes other skills, and transition to discussion of discriminatory gender norms. A key lesson was the importance of starting from common values and participants' aspirations, and focusing on how gender equality could help achieve these, rather than beginning with 'attacking' gender-discriminatory norms, which would often provoke backlash and disengagement. This was highlighted by speakers discussing both school-based programmes, such as ICRW India and community-based initiatives, including the Institute of Public Health Management, Prachod.
A fascinating session on scaling up gender-transformative approaches on the final day highlighted some of the challenges associated with transplanting programmes between contexts. In particular, participants from contexts as diverse as South Africa, Nicaragua, Tunisia and India highlighted the critical importance of allowing sufficient time for facilitators to undergo personal transformations in their own approaches to gender norms, and of not losing space for discussion and reflection in a desire to shorten timeframes and reach greater numbers. 
There is a huge amount of innovation – both digital and offline – in approaches to communication for norm change. Presentations and interactive workshops explored using games (both 'real' and video-based), apps, and festivals to share information and promote norm change, and enabled participants to engage in interactive theatre and hone their infographic skills. Presenters emphasised the importance of creating space for dialogue, and of using multiple 'platforms' (e.g. community level discussion, mass media, social media) to engage users and familiarise them with new information and concepts over a long period. 
Finally, the summit raised ethical issues about who is setting the agenda for desirable norm and behaviour change. It concluded with a challenge to everyone working to promote norm change to ensure the voices of marginalised people are properly heard. Far from a 'technical fix' through slick media campaigns or whizzy apps, social and behaviour change communication is at the heart of challenges to the status quo. (View the draft summit declaration).