Imagining a Feminist Internet in South Asia - an ALIGN-sponsored convening
Author: Suzanne Petroni
Published by: ALIGN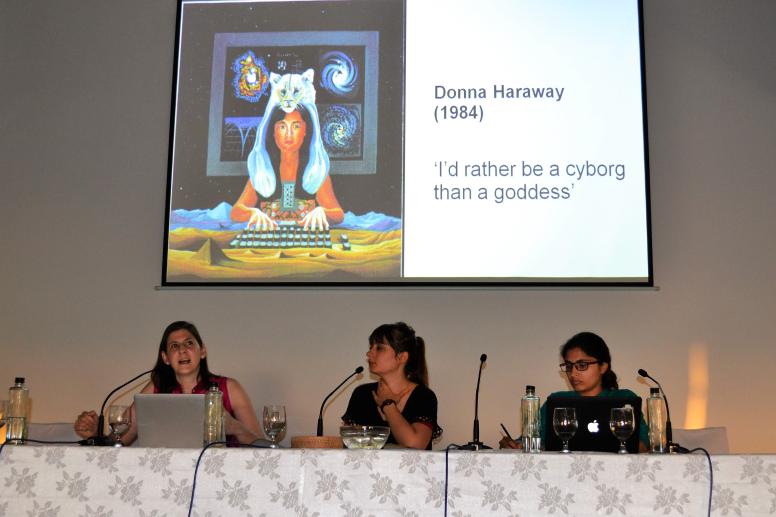 Cyberbullying, sexting, online harassment, extortion, disparagement, defamation, trolling… the list of online threats faced by far too many people goes on and on.
The International Center for Research on Women recently introduced the term technology-facilitated gender-based violence (GBV) to describe actions that are 'carried out using the Internet and/or mobile technology that harm others based on their sexual or gender identity or by enforcing harmful gender norms.' 
Many of us are now quite familiar with this type of violence, which is aimed primarily at women, girls and those who are gender non-conforming. The impact on its victims can be devastating. And with the vast expansion of the Internet and mobile phones, this type of violence has spread across the globe. 
At the same time, however, prevailing gender norms in many parts of the world, particularly in South Asia, contribute to a digital gender gap. The desire to control women's sexuality and sexual expression has restricted women's access to the Internet, mobile phones and online privacy, blamed women for the technology-facilitated (GBV) against them, and justified censorship and new forms of surveillance. Given what they would have to face if they went online, isn't this maybe a good thing? 
Nope. Restricting access is not the solution. Even as we condemn and work to overcome harmful norms and GBV, we recognise that the Internet offers tremendous opportunities for freedom of expression, learning and new ways to interact. 
It was against this backdrop that Point of View and the Internet Democracy Project led a fascinating and empowering two-day discussion, sponsored by ALIGN last month, designed to 'Imagine A Feminist Internet' in South Asia.  
On behalf of ALIGN, I was thrilled to join around 50 feminist activists, academics, journalists, researchers and practitioners from Bangladesh, India, the Maldives, Myanmar, Nepal, Pakistan and Sri Lanka to share evidence and develop recommendations to create a feminist Internet that would empower women, queer persons and marginalised genders to fully enjoy their rights, engage in pleasure and play, and… no big ask… to dismantle patriarchy. 
The participants tackled a vast range of issues related to online violence, sexuality, privacy and surveillance. We learned that geography and socioeconomic status can have a big influence on the overall ownership of mobile phones in South Asia, but that norms, such as gendered responsibilities in the household, place the bar much higher for women. 
We learned that women in Myanmar often create fake social media accounts under the names of men from the dominant ethnicity and religion to limit risks they may face online. We heard that online pornography is shaping (and skewing) perceptions among Bangladeshi boys about women's bodies, sexuality and sexual practices, and contributing to a growing view that violence against women and girls is 'heroic and masculine.' 
We saw research from Pakistan that indicates that, while men face online harassment related to their political views, women are far more likely to receive objectifying, sexualized and sexist comments. We heard that the gendered and sexualised politics of representation shape the unequal participation of lesbian women in research on Internet usage in Sri Lanka. And we saw that, even when women are the strong lead characters in online games and e-sports, they are hypersexualised.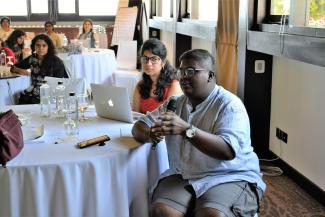 Given such challenges, and as the very architecture of the Internet is designed to perpetuate inequalities and gender norms, as P. Ray Murray of India's Srishti School of Art, Design and Technology informed us, is it realistic to imagine a feminist Internet? One where access to mobile phones isn't gendered, where phones aren't used as weapons, where power and privilege are dismantled, and where the Internet is a space for joy and justice, dignity and belonging?
It's an uphill climb, but there is hope. And there are some short-term strategies to get us on the right path.
We heard empowering stories of how women deep in the heart of India bravely confront their online trolls – often the very same individuals they see regularly in their communities. 
We heard of girls purchasing pre-paid SIM cards, so their parents and boyfriends couldn't find out how much data they used, and of creating 'good girl' images on social media to throw so-called guardians off – all so that they could operate in a space that they manage, without oversight. 
We read a quote from a young woman, who told her interviewers that the release by WhatsApp of a 'middle finger' emoji allowed her to curse freely, which gave her a sense of liberation, and another from a trans woman, who said that WhatsApp groups help ensure the safety of her trans peers in Kerala, where they often face police brutality and harassment. 
In short, the convening provided plenty of food for thought about how to make the Internet work for all. Look for more from Point of View, including their latest Free To Be Mobile Report, and the Internet Democracy Project in the coming weeks and months, as they share their thoughts, along with guidance on how to tackle gender norms on the Internet. 
Hear from the participants
Watch the video to hear from participants Bishaka Datta (Point of View), Anja Kovacs (Internet Democracy Project), Pooja Pande (Khabar Lahariya, India) and Subha Wijesiriwardena (Women and Media Collective, Sri Lanka) talking about their key take-aways from the convening.
About the author
Suzanne Petroni (@suzp) founded the consultancy, Gender Equality Solutions, in 2017 to support donors, governments and civil society to design and implement high-quality and gender-equitable global health and development programs. She brings nearly three decades of experience in the governmental, philanthropic, nonprofit and research sectors, and holds a doctorate in Gender and Social Policy from George Washington University, a master's in Foreign Service from Georgetown University, a bachelor's in International Relations from the University of California at Davis, and a certificate in Public Health in Complex Emergencies from Columbia University. She currently serves as the Convening Fund Lead for the ALIGN Programme.