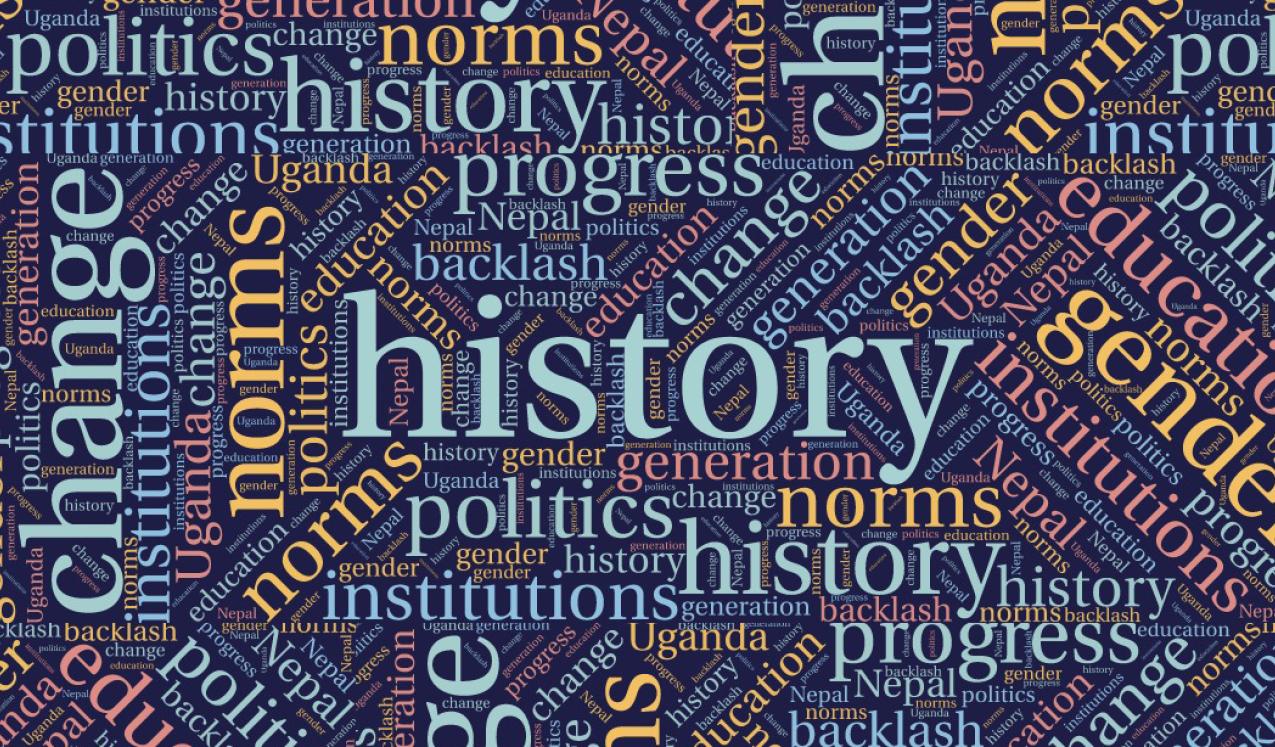 About the history and change project
Understanding how change happens and what drives it – and has driven it previously – is crucial for progress in efforts to advance gender equality. While evidence of change can be understood in the short term through a range of methods, data over long timespans in less-studied contexts and on complex social change are rarely, if ever, available.
The studies detailed here involved qualitative analysis, employing the insights of those centrally positioned in these change processes: women with direct personal experience and women who have themselves analysed the political and social processes of change in their own histories.
Contexts often change at speed, yet the pace of change in gender equality (with some exceptions) has been lamentably slow in many areas. While every new generation faces its own unique challenges and mounts its own bid for action, the underlying causes of gender inequality persist: male prerogative, violence, and embedded patriarchy. Change actors, therefore, are faced with many of the same issues as their predecessors, and can both learn from, and be inspired by, past achievements and pathways to change.
That is why ALIGN has undertaken research to identify the key drivers of gender norm change over time, working with those who have influenced change in Nepal and Uganda over the past 50 years. We should not underestimate the ongoing resistance to, as well as the passion for, change. As this Ugandan woman describes:
'While the windows of opportunities remain open, the doors stay closed and even locked and guarded. Women are getting out only through the windows – and some just squeezing through the grates at the tops of these windows. Other women, meanwhile, remain stuck in the room. And even those who have gotten out are sometimes smashed against the wall outside.' (professional woman, Uganda)
Video: In conversation with...
Zainab Bangura, former Undersecretary General of the United Nations and Special Representative on sexual violence in conflict, gives a personal account of how gender norms affected her life both as a child growing up in Sierra Leone and throughout her career as a UN ambassador and politician.
About the project (cont.)
Five key areas
ALIGN's 'history and change' research is based on interviews with different generations of women, conducted across 2018-2019 in Nepal and Uganda, on their experiences of shifting gender norms since the 1980s and 1990s. Lead researcher Carol Watson, along with country leads Anita Ghimire and Grace Bantebya, interviewed groups of women and other stakeholders in each context to explore perspectives on experiences of gender norm change, as well as resistance and backlash to change.
The results of the studies, which are explored in two country reports and country briefings, reveal major changes to gender norms in the quarter century since the Beijing Conference, as well as significant remaining barriers to gender equality in both contexts.
The studies reveal five key areas that have been critical in bringing about change to gender norms in both contexts over this long timeframe.
These five key areas are:
legal reform
quality education leading to economic empowerment
social movements and leadership
aspirational equality processes across societal institutions
improved reproductive choices.
Taken together, changes in these key areas have both benefited from, and generated, sustained improvements in gender equality, by shifting of underlying discriminatory attitudes and behaviours. However, progress in each one depends entirely on progress in the other four areas. Our findings also reveal that all five areas need resources and a whole package of policies, interventions and support if they are to function effectively.
Education, for example, can only shift gender norms if economic opportunities are present and political voice and leadership can support educational aspirations for decent work and gender equality. Building more schools will not overcome the barriers to education a girl faces when her first menstruation triggers family discussion of her marriage, or when her family's poverty means that her parents prioritise her brother's education.
'We have to look beyond education and link it with economic empowerment – tooling [sic] girl pupils and women students to navigate the environment of masculine spaces that they are negotiating into… Girls who come into this get a shock.' (Professional woman, Uganda)
As with the education example above, legal implementation alone will not guarantee equal opportunities unless a young woman can claim her rights; family planning will not translate immediately into a woman's bodily autonomy unless her family and community uphold her independence; and institutions may not promote safe spaces or non-sexualised environments unless women and men stand up, demand change and even take legal action to compel institutions to do so.
'All things are intertwined. Community sensitisation is not enough – people will just go back and sleep. Laws and how effectively they are applied will help determine attitudes – law is a very effective element in this.' (Professional woman, Uganda)
Finally, it's clear that engaging with women from very diverse social groups is essential, alongside attention to the wider professional and institutional fabric that supports and builds social movements.
'The women's movement needs to be broadened into a grassroots movement rooted in people and not dependent on a few women leaders – mainly in NGOs. We need movement-building for collective power and voice.' (Professional woman, Uganda)
A reason to be optimistic
Our retrospective studies have revealed, time and again, that some of the most crucial drivers of change have been perseverance and bravery from individuals, support from immediate family and community (including key male figures) and role models and leadership from those with power.
As one Ugandan woman said:
'It takes a certain kind of fighting spirit to keep pushing.' (Professional woman, Uganda)
Hope is the fuel that ignites the fire within individuals to strive for their rights: hope that social justice can be achieved through legal processes, through employment opportunities, through quality educational experience and through role modelling and leadership.
A strong current of activism was also fostered by the wider support and inspiration found in the International Women's Rights Movement, particularly during a vibrant period of global women's rights activism in the 1990s marked, among other activities, by the 1995 Beijing Conference.
'This is about the little space that you create – the little change that you make and the new awareness you have built and then, as in a relay race, you pass the baton on to others.' (University professor, Nepal).
We can be optimistic as these younger women demonstrate:
'I have learned that I have a right to shout.' (Young woman recent university graduate, Uganda)
'Girls now have wings like a scooter!' (Middle-aged professional woman, Nepal)
But we cannot ever be complacent
The papers in this section detail rich findings and provide important lessons on the time frames, sequencing and consistency of the leadership and action needed to ensure norm change. Our accompanying video featuring Zainab Bangura, former Undersecretary General of the United Nations for sexual violence in conflict, also demonstrates how these same issues on gender norms have played out in her home country of Sierra Leone.
One clear message has emerged from this research: long-term donor commitments over short-term impact driven investments are paramount, alongside a focus on gradual change in multiple critical sectors and support for local women's movements and the fabric that builds their capacities, in all their diversity.