Journal article

5 May 2020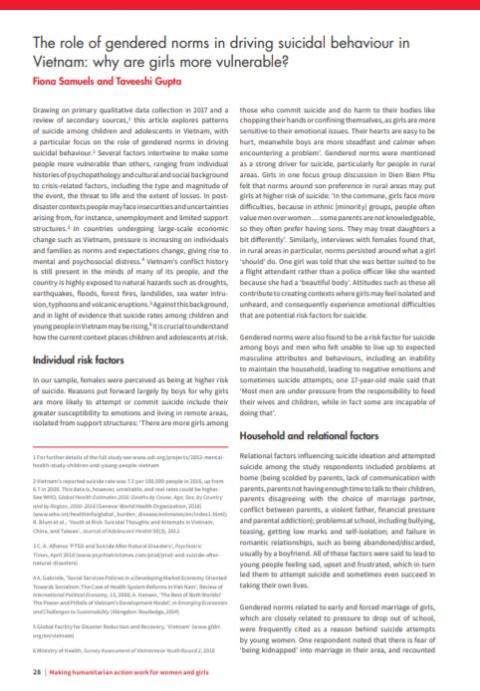 Drawing on primary qualitative data collection in 2017 and a review of secondary sources, this article explores patterns of suicide among children and adolescents in Vietnam, with a particular focus on the role of gendered norms in driving suicidal behaviour.
Several factors intertwine to make some people more vulnerable than others, ranging from individual histories of psychopathology and cultural and social background to crisis-related factors, including the type and magnitude of the event, the threat to life and the extent of losses. In post- disaster contexts people may face insecurities and uncertainties arising from, for instance, unemployment and limited support structures.
In countries undergoing large-scale economic change such as Vietnam, pressure is increasing on individuals and families as norms and expectations change, giving rise to mental and psychosocial distress.
Vietnam's conflict history is still present in the minds of many of its people, and the country is highly exposed to natural hazards such as droughts, earthquakes, floods, forest fires, landslides, sea water intrusion, typhoons and volcanic eruptions.
Against this background, and in light of evidence that suicide rates among children and young people in Vietnam may be rising, it is crucial to understand how the current context places children and adolescents at risk.