Mental health and psychosocial well-being among adolescents in Tanzania
Published by: ODI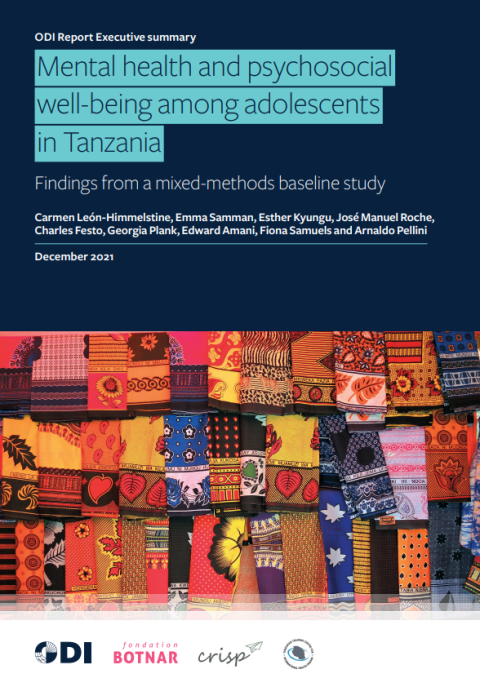 This mixed-methods baseline study seeks to shed light on the mental health needs and psychosocial well-being of adolescents, living in project locations in Tanzania.
This ODI Report is focused on identifying the key drivers of mental ill-health and psychosocial well-being among two subgroups of adolescents (those aged 11–15 years and those aged 16–19 years) in two Tanzanian cities: Morogoro and Mwanza City.
In Tanzania – where more than two-thirds of the population are children, adolescents or young adults (aged 0–24) – those facing mental health challenges do not always receive adequate care. This is due to gaps in understanding of mental health and mental illness, where mental ill-health or mental disorders and symptoms are not usually recognised, and so remain largely untreated.
Drawing on a broad range of methodologies, including quantitative psychosocial well-being surveys, in-depth interviews, focus group discussions, family case studies and key informant interviews, this research reveals the key protective factors for mental health and underlying drivers of mental ill-health. The baseline study also delves into mental health coping strategies of adolescents, as well as the ease of access to services and role of technology. The ODI Report concludes with recommendations for governments, development partners and civil-society organsations working on adolescent mental health in Tanzania.
Key messages
The number of people adolescents' felt they could rely on was positively associated with psychosocial well-being.
Unhappy/unstable family dynamics were a major stressor in adolescents' lives, including precarious employment of parents and unmet basic needs. The survey found strong correlation between witnessing violence and being at risk of depression.
Poverty was also cited as a major driver of mental ill-health among adolescents.
Gendered social norms were cited as an important driver of mental ill-health in the qualitative work, particularly for girls. The greater burden of unpaid care and domestic work responsibilities was identified as detrimental.