Mental health and psychosocial well-being among adolescents in Viet Nam
Published by: ODI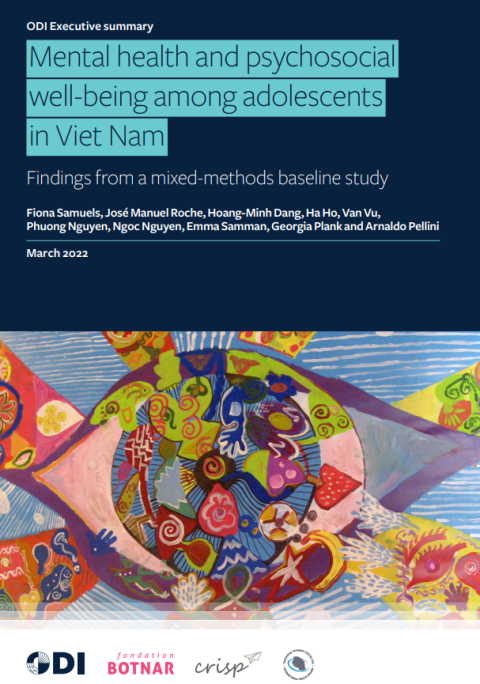 This mixed-methods baseline study seeks to shed light on the mental health needs and psychosocial well-being of adolescents, living in project locations in Viet Nam.
This ODI Report is focused on identifying the key drivers of mental ill-health and psychosocial wellbeing among two subgroups of adolescents (those aged 11–15 years and those aged 16–19 years) in two cities: Vin City and Nha Trang, in Viet Nam.
In Viet Nam, approximately 3 million children (aged 12 or above) are in need of mental health services, with needs varying significantly across the 10 provinces surveyed. Viet Nam's mental health system is heavily focused on treating severe mental disorders (especially epilepsy and schizophrenia) in urban hospitals. Where mental health services do exist, youth uptake is low. Partly due to lack of knowledge about those services, partly to stigma surrounding mental ill-health, and lack of age- or gender-appropriate services.
Drawing on a broad range of methodologies, including quantitative psychosocial well-being surveys, in-depth interviews, focus group discussions, family case studies and key informant interviews, this research reveals the key protective factors for mental health and underlying drivers of mental ill-health. The baseline study also delves into mental health coping strategeies of adolescents, as well as the ease of access to services and role of technology. The ODI Report concludes with recommendations for governments, development partners and civil-society organsiations working on adolescent mental health in Viet Nam.
Key messages
The survey identified 33% of respondents as being at risk of depression (WHO-5), with relatively equal proportions in middle school and high school.
Both the qualitative research and the survey suggest that girls are more likely to experience mental health distress than boys.
Adolescent respondents also cited many factors as driving mental distress and ill-health, including: negative self-perception such as unhappy body-image and low-self-esteem, unstable family dynamics, parental financial stress and separation, as well as other stressors such as extreme academic pressures and addiction to mobile phones.