Briefing paper

22 April 2021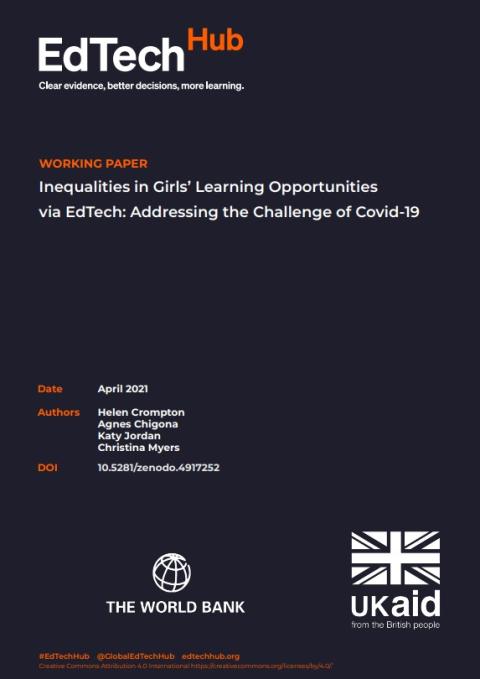 Research paper, "Inequalities in Girls' Learning Opportunities via EdTech: Addressing the Challenge of Covid-19," examines emerging evidence on how EdTech could most effectively be used to support girls' education in low- and middle-income countries (LMICs). Written by Helen Crompton of Old Dominion University (USA), Agnes Chigona, Cape Peninsula University of Technology (RSA), and Katy Jordan and Christina Myers (EdTech Hub), the paper illustrates the constraints many girls face in accessing and benefiting from EdTech. It also offers a framework of five intersecting factors as the basis for this thinking:
Digital access: Potential gender disparities in digital access, including at home, should be considered when EdTech interventions are designed.
Digital freedom: Social norms, as well as online discrimination or violence, can influence the extent to which girls are allowed to use EdTech — acknowledging these system-level factors is important to implement equitable solutions.
Digital literacy: Girls are often more likely to have lower levels of digital literacy than their male counterparts — tackling these inequalities and disparities is needed to enable girls and boys to equally make use of EdTech.
Digital pedagogies: Issues related to promoting gender bias, discrimination, and misrepresentation can emerge in teaching practices. Building this into planned professional development for teachers would be a good opportunity to make digital pedagogies more inclusive.
Digital design: Disparities in learning outcomes can emerge when contextual factors, social inequalities and norms are not factored into the design of EdTech interventions. Participatory approaches could be used to align with local and contextualised needs.