Journal article

10 April 2018
Contesting restrictive mobility norms among female mentors implementing a sport based programme for young girls in a Mumbai slum
Published by: BCM Public Health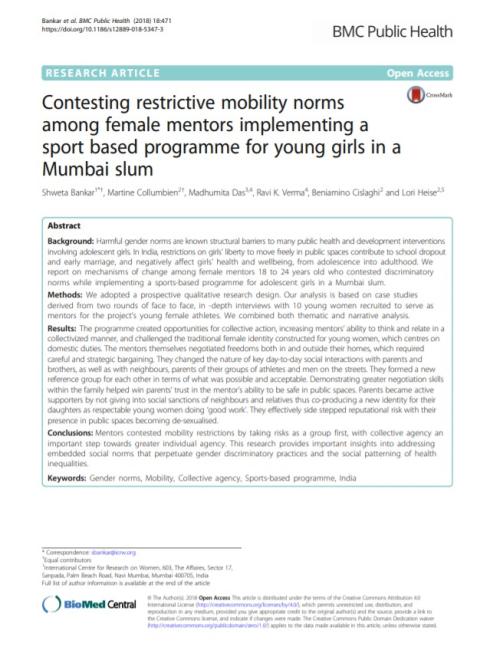 Abstract
Background
Harmful gender norms are known structural barriers to many public health and development interventions involving adolescent girls. In India, restrictions on girls' liberty to move freely in public spaces contribute to school dropout and early marriage, and negatively affect girls' health and wellbeing, from adolescence into adulthood. We report on mechanisms of change among female mentors 18 to 24 years old who contested discriminatory norms while implementing a sports-based programme for adolescent girls in a Mumbai slum.
Methods
We adopted a prospective qualitative research design. Our analysis is based on case studies derived from two rounds of face to face, in -depth interviews with 10 young women recruited to serve as mentors for the project's young female athletes. We combined both thematic and narrative analysis.
Results
The programme created opportunities for collective action, increasing mentors' ability to think and relate in a collectivized manner, and challenged the traditional female identity constructed for young women, which centres on domestic duties. The mentors themselves negotiated freedoms both in and outside their homes, which required careful and strategic bargaining. They changed the nature of key day-to-day social interactions with parents and brothers, as well as with neighbours, parents of their groups of athletes and men on the streets. They formed a new reference group for each other in terms of what was possible and acceptable. Demonstrating greater negotiation skills within the family helped win parents' trust in the mentor's ability to be safe in public spaces. Parents became active supporters by not giving into social sanctions of neighbours and relatives thus co-producing a new identity for their daughters as respectable young women doing 'good work'. They effectively side stepped reputational risk with their
presence in public spaces becoming de-sexualised.
Conclusions
Mentors contested mobility restrictions by taking risks as a group first, with collective agency an
important step towards greater individual agency. This research provides important insights into addressing
embedded social norms that perpetuate gender discriminatory practices and the social patterning of health
inequalities.