Journal article

20 June 2022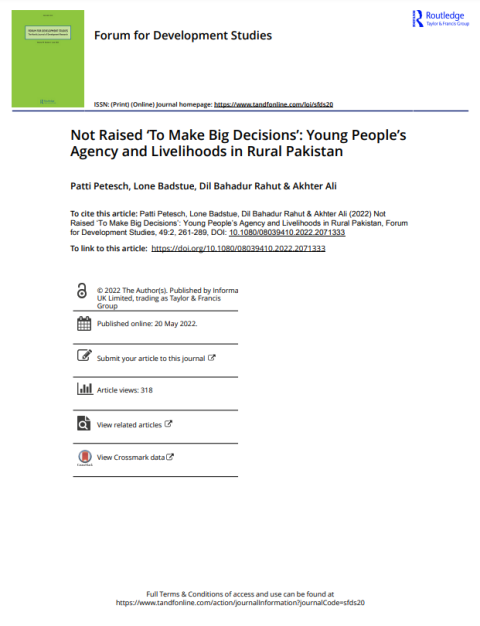 This paper examines young people's testimonies about their capacity to make important decisions and their livelihood experiences from agricultural communities that span Pakistan's countryside. Their analysis is guided by theories of agency that focus on how a young person's capacity to identify and act on goals is mediated by their local opportunity structure – shaping their household relations, livelihood choices, and prevailing social norms. The authors apply comparative and contextual qualitative analysis methods to our dataset of 12 village cases, which include 24 sex-specific youth focus groups. They also present a secondary survey analysis.
The authors find high rural employment levels among young men in recent years, and a decline in rural young women's employment from already low levels. The young study participants mainly observe limited capacity to make important decisions. They repeatedly attribute this to expectations of strict deference to elders and other norms about their gender, young age, junior household position, marital status, and socio-economic standing. They also report negotiating and resisting confining norms; however, young women's agency appears especially constrained by norms that discourage their physical mobility and visible economic roles. The authors examine two villages where some youth express healthier levels of agency and more desirable economic opportunities than others, and the significance of kinship relations and fluid norms in this environment.
The authors call for models of young people's agency that register more effectively the importance of household relations, the gatekeeper role of elders, and the contextual and fluid properties of norms, as these dynamics both constrain and enable young people's agency.