Briefing paper

13 July 2023
Nominations and electability: the role of gender norms in Nepal's local elections
Published by: ALIGN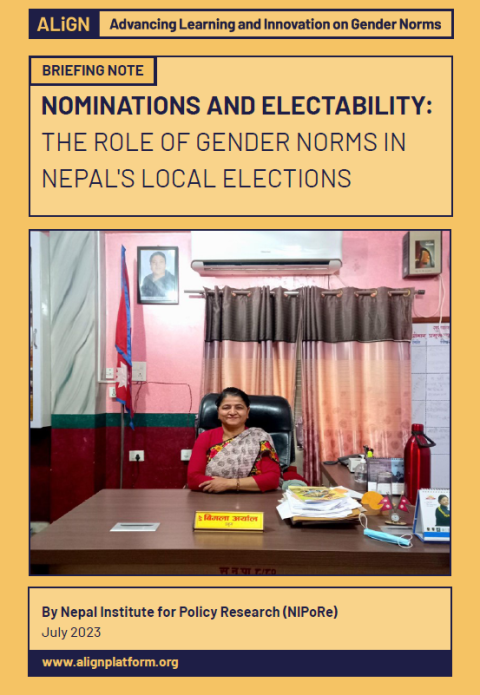 Nepal has made significant positive strides in female representation in politics because of strict legal requirements for representation. Despite this, political parties still hesitate to nominate women candidates, especially for chief executive posts in local elections. This study by Nepal Institute for Policy Research (NIPoRe) - an independent and non-partisan research institute based in Kathmandu, Nepal - analysed the status of nominations and electability of women in local elections in Nepal.
The study had three research objectives:
To assess whether women candidates were nominated less than men in competitive constituencies.
To assess if women candidates were less 'electable' than male candidates in Nepal's 2022 local elections.
To identify the obstacles that women candidates and winners face from their constituencies, local institutions and political parties during the nomination process or while in office.
Research found that major political parties in Nepal nominate fewer women for competitive seats, despite claims of 'gender blindness' in their candidate selection process. This is the result of a flawed nomination process, as well as selection criteria that inherently favour men. It also identified that female deputy chief executive candidates received marginally less votes than male counterparts but there was no statistically significant difference in the number of votes received when females were nominated as chief executive candidate, which suggests that female candidates are as electable as male candidates. Importantly, the study found evidence in relation to the biases against female candidates, which do not end with the nomination process. Even when women win an election, they often face negative attitudes and behaviours based on gender norms (such as women not being perceived as chief executives) that affect their performance.