Journal article

7 September 2023
How do local gender norms interact with local conceptualisations of empowerment to shape women's engagement in local dairy value chains in Tanzania?
Published by: Frontiers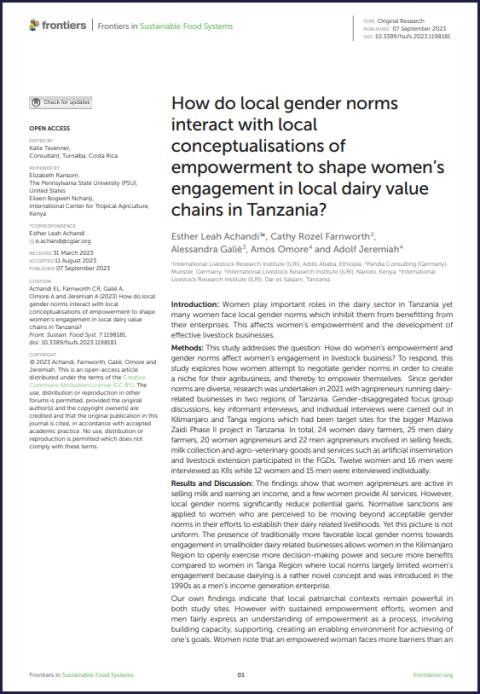 Overview
Introduction: Women play important roles in the dairy sector in Tanzania yet many women face local gender norms which inhibit them from benefitting from their enterprises. This affects women's empowerment and the development of effective livestock businesses.
Methods: This study addresses the question: How do women's empowerment and gender norms affect women's engagement in livestock business? To respond, this study explores how women attempt to negotiate gender norms in order to create a niche for their agribusiness, and thereby to empower themselves. Since gender norms are diverse, research was undertaken in 2021 with agripreneurs running dairy-related businesses in two regions of Tanzania. Gender-disaggregated focus group discussions, key informant interviews, and individual interviews were carried out in Kilimanjaro and Tanga regions which had been target sites for the bigger Maziwa Zaidi Phase II project in Tanzania. In total, 24 women dairy farmers, 25 men dairy farmers, 20 women agripreneurs and 22 men agripreneurs involved in selling feeds, milk collection and agro-veterinary goods and services such as artificial insemination and livestock extension participated in the FGDs. Twelve women and 16 men were interviewed as KIIs while 12 women and 15 men were interviewed individually.
Results and Discussion: The findings show that women agripreneurs are active in selling milk and earning an income, and a few women provide AI services. However, local gender norms significantly reduce potential gains. Normative sanctions are applied to women who are perceived to be moving beyond acceptable gender norms in their efforts to establish their dairy related livelihoods. Yet this picture is not uniform. The presence of traditionally more favorable local gender norms towards engagement in smallholder dairy related businesses allows women in the Kilimanjaro Region to openly exercise more decision-making power and secure more benefits compared to women in Tanga Region where local norms largely limited women's engagement because dairying is a rather novel concept and was introduced in the 1990s as a men's income generation enterprise.
The findings indicate that local patriarchal contexts remain powerful in both study sites. However with sustained empowerment efforts, women and men fairly express an understanding of empowerment as a process, involving building capacity, supporting, creating an enabling environment for achieving of one's goals. Women note that an empowered woman faces more barriers than an empowered man because if married, she has to consult with her husband prior to making big investments. Empowered men are however free to do as they like with their resources. Patriarchal norms guiding social ordering in Tanzania therefore place a cap on achievement as well as expression of empowerment by women. Moreover, through gender norms gatekeeping, significant relations such as husbands and community members can also act as empowerment gatekeepers reining in women's expression and experience of empowerment, especially if her husband is economically disempowered while she is.