The private sector is an important development actor. Diverse parts of the private sector are increasingly motivated to combat gender inequality, for both business and social justice reasons. Both gender equality oriented philanthropists and businesses aiming to promote women and girls in their value chains, are starting to consider their potential to help combat discriminatory norms. This thematic guide provides resources related to the private sector's role in gender norm change. Please check back here for updates as this area grows. 
New report: Private sector involvement in development: what impact on gender norms
The private sector is becoming an increasingly important development actor. This ALIGN report, by Rebecca Calder, explores some of the ways in which the private sector is engaging with discriminatory gender norms and their impacts. It examines private sector motivations for engaging with gender norms, efforts to integrate women and girls into supply chains, and their outcomes, and gender lens investing as a means to support norm change activities. It also examines some private sector innovations that are being adopted in social change activity. The report draws on a range of examples to illustrate how different private sector actors are attempting to achieving better development outcomes for women and girls.
Click here to download the report. 
Spring Programme Spotlight
Read more about SPRING, a business accelerator programme supporting fledgling enterprises to create products and services to help adolescent girls generate income and challenge discriminatory gender norms. 
Insight 
Acumen – nurturing business leaders to tackle gender inequality
Acumen, a not-for-profit organisation, has invested more than $86 million in 77 companies across Africa, Latin America and South Asia, and is nurturing a global community of emerging leaders and ensuring that they have the knowledge, skills and determination to tackle gender inequality and other pressing issues. Acumen is particularly concerned with filling the evidence gap on how businesses can impact on gender inequality and discriminatory gender norms. In partnership with the International Center for Research on Women (ICRW), they have developed a diagnostic tool that helps social enterprises assess how they are integrating gender into their business models, and where they can do more to integrate gender in order to increase their business and social impact. It also helps impact investors to identify investees who have successfully integrated gender into their operations and strategies. While many of the recommendations emerging from the work of Acumen and ICRW focus on how businesses can have a greater impact on women's economic empowerment, some go further and suggest actions to address inequitable gender norms.
For example, businesses could do much more to:
employ and train women and men for job roles regardless of whether those roles are traditionally considered as men's or women's work
create and use marketing/ advertising messages that challenge traditional gender roles
ensure equal representation of women and men at the highest levels of leadership
'Women and social enterprises: How gender integration can boost entrepreneurial solutions 
to poverty.' 
Featured Resources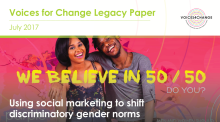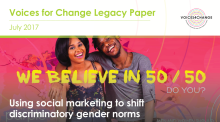 Originally developed by private sector organisations, social marketing techniques have become increasingly common  in norm change programmes, particularly those related to public health, as they can be applied on a large scale. Their use in programmes to change gender norms is newer. This paper details the unique communications and social marketing approach used by V4C in Nigeria to shift discriminatory gender norms.