Case study: Building support for women's and girls' rights through interactive theatre
Show sections
Case study: Building support for women's and girls' rights through interactive theatre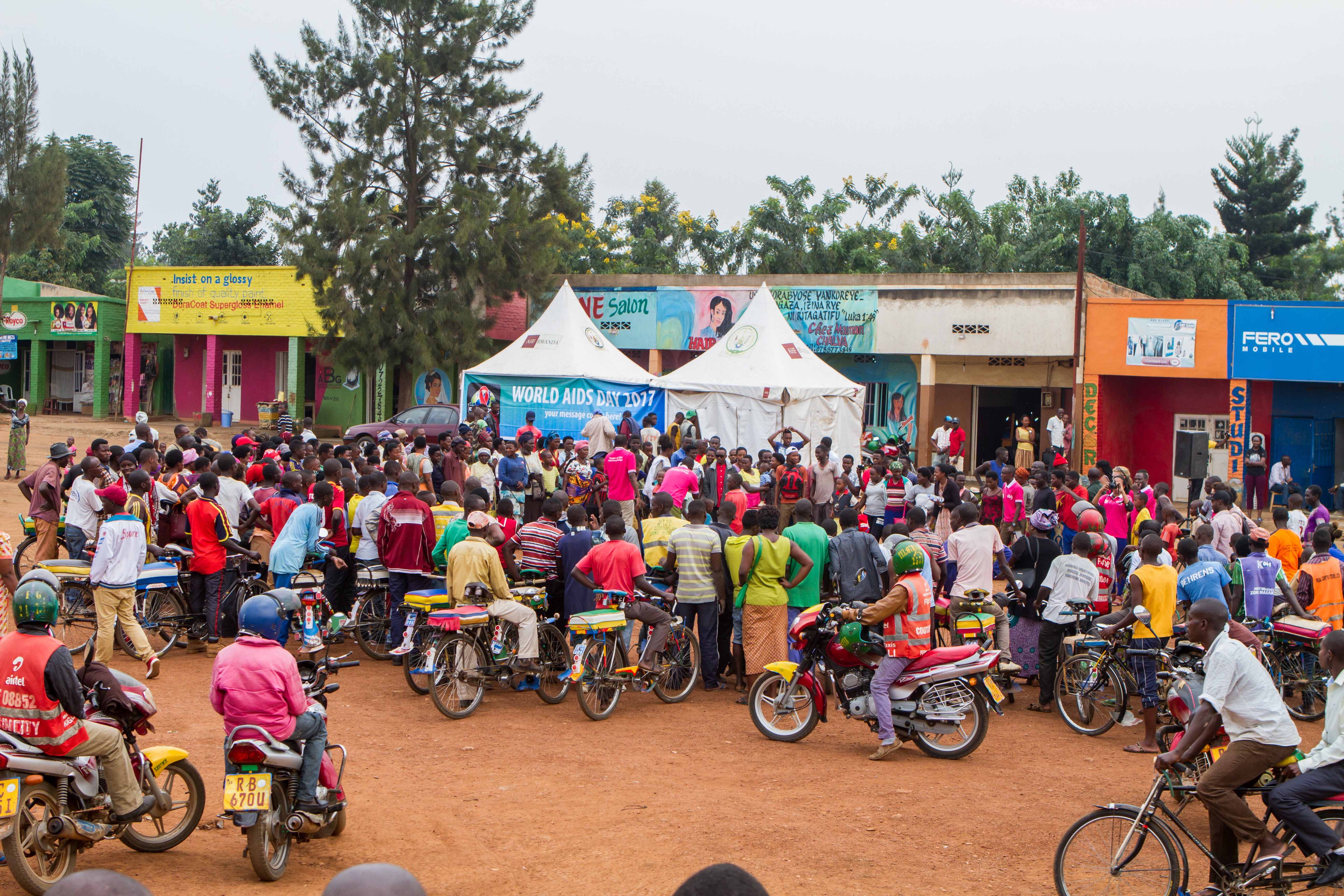 Interactive Theatre for Justice (ITJ) is a form of theatre for development that creates pathways to justice for marginalised groups. Developed by Theatre for a Change, the approach has been used in Bangladesh, the Democratic Republic of Congo, Ghana, Malawi, Nepal and Tanzania to address injustices related to the sexual and reproductive health and rights of women and girls.
ITJ has its conceptual grounding in the Forum Theatre work of Augusto Boal, the education theories of Paulo Freire, and Robert Chambers' insights into participatory learning and action. Performances are created by participants based on their own experiences; recent subjects include preventing child marriage, reducing teen pregnancy, and ending stigma, discrimination and violence against women in sex work.
Participants also choose who their audience is going to be. This decision is always based on who they feel has the most power to make a positive change to the situation they are experiencing. For girls at risk of early marriage, it's usually their parents or village chiefs. For sex workers, it's usually the police.
Participation is key
After the drama is shown, the audience is invited to suggest ways in which the story can be changed for the better. The audience is then invited onstage to make these changes as characters in the story.
By testing out their ideas through action and dialogue, the audience is able to better understand and internalise the barriers to accessing justice that marginalised groups face, so that they can work together to come up with solutions for overcoming them. 
At the end of the performance, power holders are invited to say what they will do to ensure that these solutions become a reality. These commitments are recorded and then followed up on over time. A mayor in Nepal recently committed to creating a scholarship fund to encourage married girls to return to school. A 2017 performance in Bangladesh, which you can watch part of in the short film below, saw a district councilwoman commit to forming a child marriage prevention committee and strengthening responses to reported child marriage cases. The committee recently stopped a child marriage after they heard about it and reported it to the police.
 
Transforming gender attitudes and norms
These injustices are rooted in gender inequality, and the entrenched belief in many societies and cultures that women and girls are inferior to men and boys. The facilitator brings attention to this throughout the audience interaction, by asking questions like "What could the main character do to challenge these norms or influences on her behaviour?" and "Who could help her do this?" The idea is to build up support for women and girls challenging the harmful gender norms and expectations they face, and for men and boys to change their behaviour accordingly.
As part of this process, men and boys are often invited to replace the female character in the story who needs the most help, in order to experience first-hand what it's like to be pressured into having sex, or to have an unwanted pregnancy, or to be taught by society that it's impolite to use your voice assertively. By having a direct experience of being on the receiving end of gender injustice, men and boys gain a deeper understanding and empathy of the challenges that women and girls' face, and are more likely to change their attitude and behaviour towards women and girls as a result.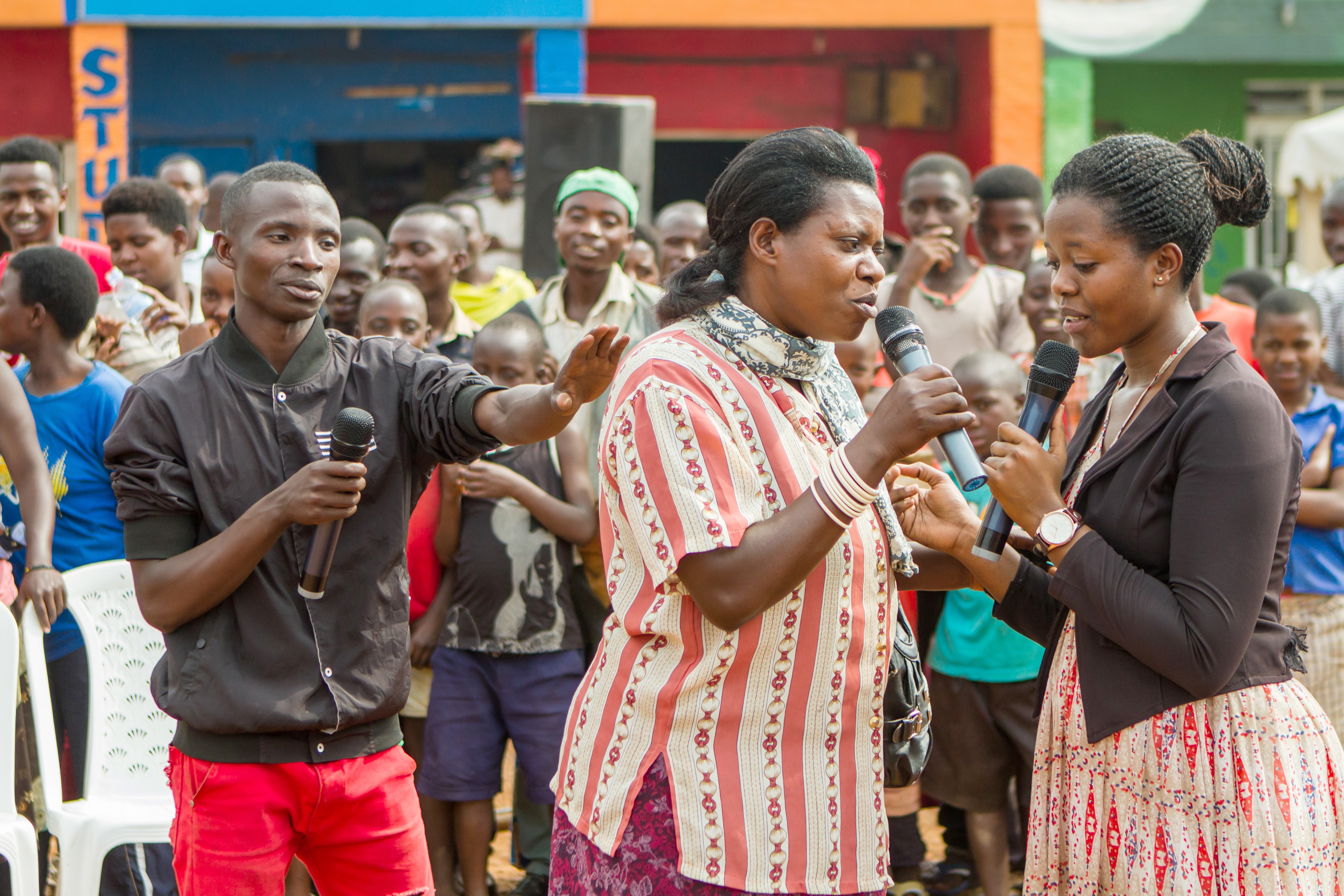 One of the key challenges involved in this work is facilitating performances in the community. It is not unusual for hundreds of people to gather at a single event, so managing the crowd - and facilitating a meaningful interaction between them and the performers - requires a great deal of confidence and skill from the facilitators. Knowing what questions to ask, when to curtail discussion and when to let it continue, how to keep the focus on helping the main character through action, and how to enable the audience to feel confident interacting with the characters on stage are all key challenges that facilitators routinely face. Theatre for a Change trainers work with facilitators in-country to help them develop the knowledge, attitudes and skills needed to overcome these challenges, and maximise the impact of interaction between performers and the audience.
Another key challenge is ensuring the safety of participants, and managing the inevitable backlash that results when a marginalised group advocates for their rights, and the status quo pushes back. In 2016, authorities in the Democratic Republic of Congo threatened to shut down the performances after they learned that young women would be the ones facilitating. Last year in Bangladesh, several participants were afraid that the community would become violent if they showed a true story of a young couple falling in love. Theatre for a Change carries out risk assessments involving project staff, participants and authorities before each project begins, and develops risk mitigation plans in collaboration with implementing partners – but there is still an inherent risk in this type of advocacy work that can be hard to account for completely.
Theatre for a Change operates a New Partnerships Programme, which offers training and technical support to partner organisations in their innovative methods for social and behaviour change. To find out more, please contact Ryan Borcherding.
 
Written by Ryan Borcherding, New Partnerships Programme Manager at Theatre for a Change.