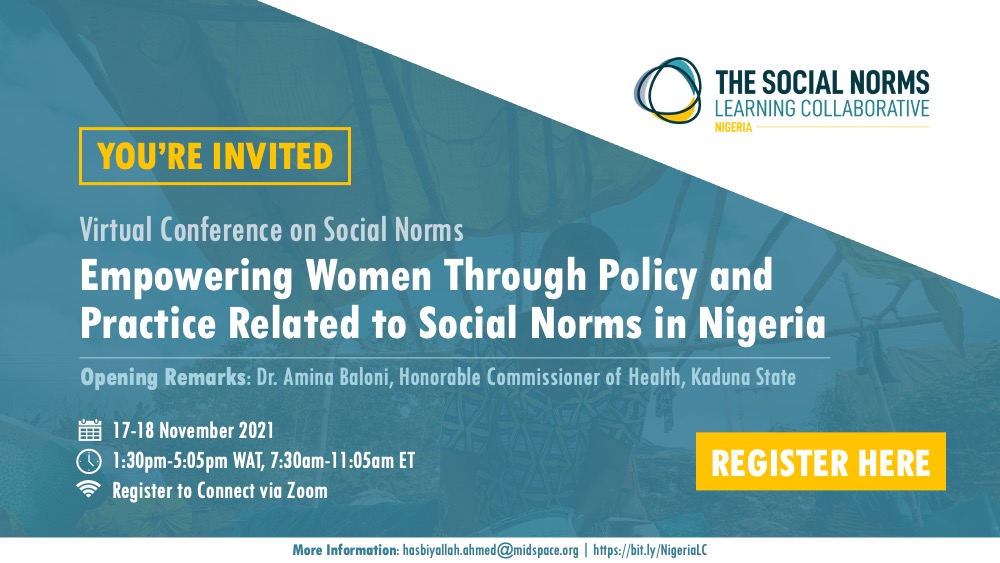 17 November 2021, 12:30 - 18 November 2021, 17:05 GMT
Empowering women through policy and practice related to social norms in Nigeria
Organiser:

Social Norms Learning Collaborative, Nigeria Learning Collaborative
Location:

Zoom (register below for link)
Contact:

Marilyn Akinola, Research Project Coordinator ([email protected])
The Nigeria Social Norms Learning Collaborative is pleased to invite you to its virtual social norms conference.
About this event
Date and Time: Wednesday, 17th November 2021, 1:30pm - 5:05pm WAT and Thursday, 18th November 2021, 1:30pm - 5:05pm WAT
About the conference
The Nigeria Social Norms Learning Collaborative's conference themed: Empowering Women Through Policy and Practice Related to Social Norms in Nigeria, will convene practitioners, researchers, advocates, and others to share and learn about experiences in social norms research, advocacy, programming, and measurement.
This virtual conference will consist of thematic sessions and plenaries led by leading social norms experts in the following areas: women's economic empowerment, gender-based violence, maternal child health and nutrition, infectious diseases, linkages between research, policy and practice, and responsive feedback. Participants will also have the opportunity to expand their networks within Nigeria and globally.
About the Nigeria Social Norms Learning Collaborative
A Learning Collaborative (LC) on Social Norms has been established in Nigeria made up of representatives from the government, NGOs, researchers and donors. The overall objective of the Nigeria LC is to improve programming and research that addresses social norms that influence the success of development programs—particularly in areas of the country with weak health systems. The goals of this Learning Collaborative are to:
Share social norms evidence, approaches and resources.
Integrate social norms into ongoing and new normative and behaviour change initiatives.
Improve social norms program implementation and evaluation.
Strengthen networks within and across norms-shifting programs to improve learning and practice, especially in areas of the country with weak health systems.
Generate and share knowledge between practitioners in Nigeria and the global community.
Since its inception the network has brought together a diverse group of people working on social norms in Research, Advocacy, Programming and Measurement. The members have undergone training on social norms and have established thematic groups to share experiences drawing from their respective.
Learn more about the Nigeria LC on its website here. You can also sign up to receive our newsletter.
Register here