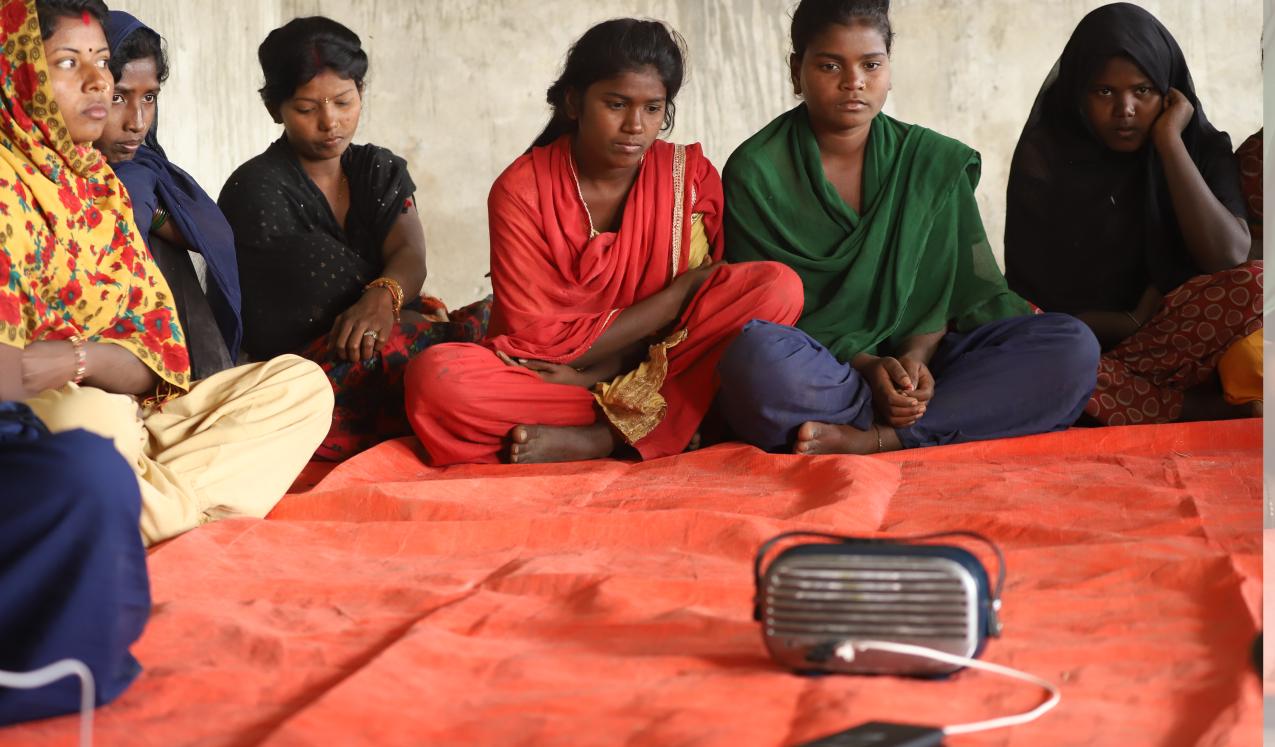 Girls in Eastern Terai, Nepal meet twice a week to listen PMC's 'Hilkor (Ripples in water)' Drama. The drama covers the story of child marriage and gender based violence. ©PMC
Case studies series: Norms and broadcast media
Gender-sensitive broadcast media has the potential to empower women by showcasing positive role models and opening up a new world of skills and knowledge.
Introduction
The powerful role of the media as a key tool to achieve gender equality and shift harmful gender norms has been recognised for decades, and was affirmed in the September 1995 Beijing Platform for Action. As one of the most widespread forms of media, broadcast media gives both journalists and decision-makers the chance to shape the public agenda and promote a more balanced, diverse, and non-stereotypical portrayal of women and gender minorities. By airing content that is gender-transformative, broadcast media can offer all audiences, but specifically women and gender minorities, programmes that reflects the diversity of their lived experiences and that highlights the contributions they are already making to society.
Broadcast media has a clear impact on our attitudes, beliefs, and behaviours, as reflected in extensive research that finds today's media content to be stereotyped, unrepresentative, and ultimately harmful to women and gender minorities. There has, however, been far less research on how broadcast media can – and does – make a direct contribution to gender norm change. These case studies and interviews aim to help fill that research gap.
The case studies and interviews build on the findings from a range of research showing how representation and role-modelling help to promote more egalitarian gender norms. They bring together voices from three key media sectors:
'edutainment' entertainment and development programming (Population Media Center, BBC Media Action),
the entertainment and commercial sector (The Representation Project, The Geena Davis Institute), and
news media and journalism (Sahiyo, Sancharika Samuha [SAS], the Global Media Monitoring Project).
The case studies from edutainment explore the different methodologies used by development organisations to plan targeted broadcast drama series. The case study on the commercial entertainment sector reviews how non-governmental organisations leverage their research to drive top-down change, starting with the content creators in Hollywood. From the news media sector, the case studies from Sahiyo and SAS look at how journalists can improve their practices to produce news content that is both gender-representative and gender-sensitive, while the Global Media Monitoring Project case study examines how data on the representation of women in broadcast media are used to change national legislation.
By exploring how key actors in broadcast media approach gender norm change and studying the impact of their initiatives, these case studies and interviews are a contribution to knowledge on how to build better programmes to counter harmful gender norms and, ultimately, create a more equal and gender-just world.