Briefing paper

7 February 2022
Global feminist experiences of mobilising for norm change
Published by: ALIGN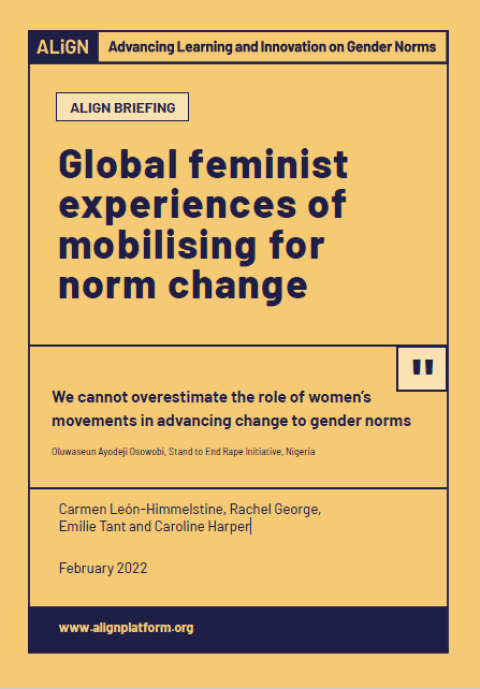 Feminist movements play a critical role in advancing gender justice and social equality all over the world. Those on the frontline of women's social movements share their lessons for transformative change.
On 2 December 2021, the ALIGN Platform (led by ODI) convened a group of feminist activists and leaders from different global contexts for a closed-door virtual roundtable entitled: 'Supporting feminist movements for transformative change: a grassroots conversation'. This conversation was a chance to hear directly from the voices of those on the frontlines of feminist movements.
Participants were invited to take a deep dive into the experiences of feminist organising and share learnings on how women's mobilisations contribute to gender norm change. This ALIGN briefing attempts to amplify the voices of those who were in the room, by highlighting key messages from the roundtable. Among other themes, it covers feminist mobilisation strategies, barriers and enablers to organising, contextual considerations, plus suggestions for ways forward.
It is intended to spark further conversations on how best to support grassroots momentum for change, as well as encourage future research on the role of feminist movements in driving transformation.
Key messages:
Feminist movements contribute significantly to gender norm change. Issue-based activism makes a difference through both big and small actions, especially on issues such as male violence against women and environmental justice.
Feminist activists face a series of overwhelming barriers in their everyday struggles. This includes in terms of personal safety, lack of funding or resources, state-perpetrated violence, and processes of 'NGO-isation'.
A sense of global solidarity is a key enabler, so is adopting intersectional approaches. Transnational coalitions and broad-based movements that are both reflective and inclusive strengthen the work of feminist activism.
Funders' responses need to meet feminist movements' long-term needs. This means working with longer-term goals and flexible approaches to grassroots resourcing, with an understanding that this work is, and always will be, political.