Briefing paper

17 July 2019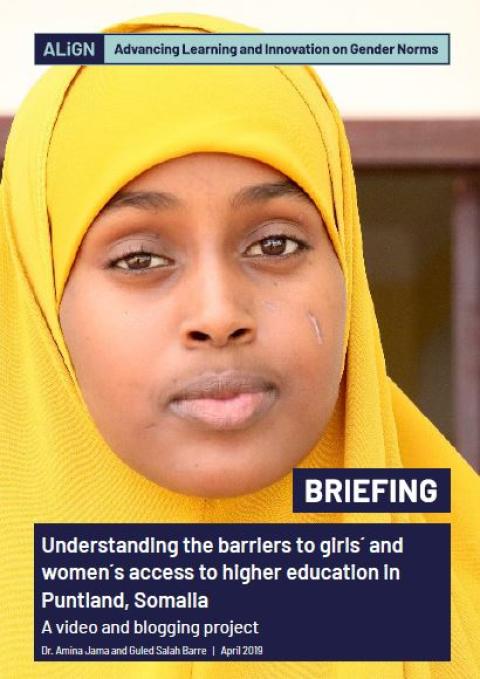 Key messages
The number of girls enrolled in primary and secondary education globally is higher than ever before, and yet in Somalia large numbers of girls still drop out of secondary schools as a result of discriminatory gender norms. The Somali Institute for Development Research and Analysis (SIDRA) conducted qualitative research – including a video and blogging project – to understand the social, cultural and economic barriers that affect access to higher education for girls and women in Puntland, Somalia in particular.
Key obstacles were found to include social and cultural practices such as early marriage and female genital mutilation, clan systems and preferential treatment of boys; financial barriers due to privatisation of the education sector and the costs of transportation and equipment; widespread low literacy of parents, particularly among pastoralists and rural communities; poor English language skills; the vulnerability of girls to verbal and physical abuse as they travel to/from school; and a lack of female role models within higher education due to low recruitment levels and limited career progression of female teachers and lecturers, coupled with beliefs that only men should pursue a career within academia.
The videos and blogs stimulated discussion about young women's entitlement to higher education. Young men participating in the project also began to change their views regarding the potential for young women to become university lecturers and to occupy higher leadership positions within tertiary institutions.
The focus group discussions and interviews suggest that Somali language, literature and religion are being used to motivate and advocate for girls' and women's empowerment, however acceptance and support by families and the community for girls' education is critical to overcome gender stereotypes and bias.