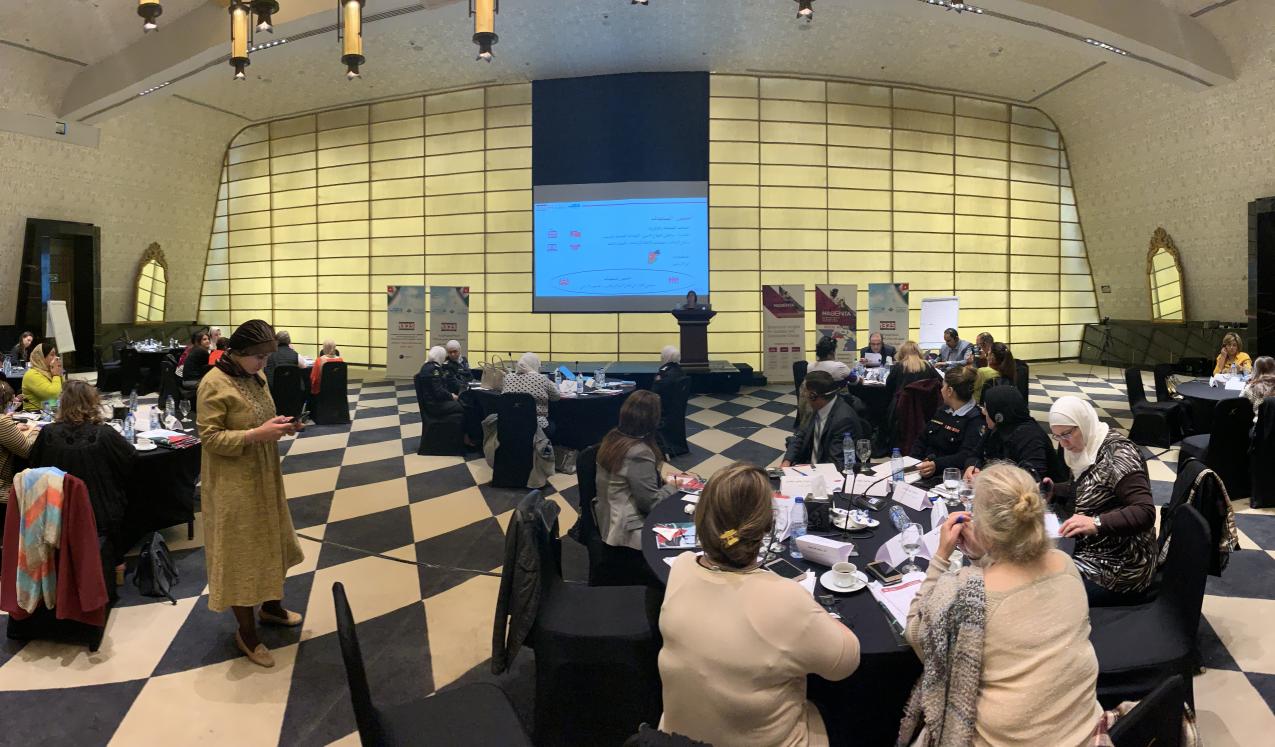 Case study

15 October 2019
Supporting the critical role of women in Jordan's security sector
Author: Laramie Shubber
Published by: ALIGN
At first sight, women in Jordan enjoy an equitable environment in their country's security sector, including in the police and armed forces, that would be the envy of women in many other countries in the region and beyond. 
The Jordanian Armed Forces, for example, pride themselves on strong policies on gender equality, with women receiving the same pay and opportunities for promotion as men, and serving for the same period of time. The Armed Forces also provide additional benefits such as maternity leave. 
Despite such positive policies, however, Jordan's security sector is still perceived as a male institution. According to a key informant interview with a retired female Senior Officer, many people still believe that women are not qualified to serve effectively on the basis of their gender alone. She also reported that some men in the security sector—including some of those in leadership and supervisory positions—feel threatened by equitable participation of women, and that this has a negative impact on the career trajectory of their female colleagues. Furthermore, many male leadership figures in the security sector hold traditional beliefs about the role of women in society that are not compatible with women's equitable participation in that sector. As a result, women can face real barriers if they try to take on security roles that are seen as more appropriate for men.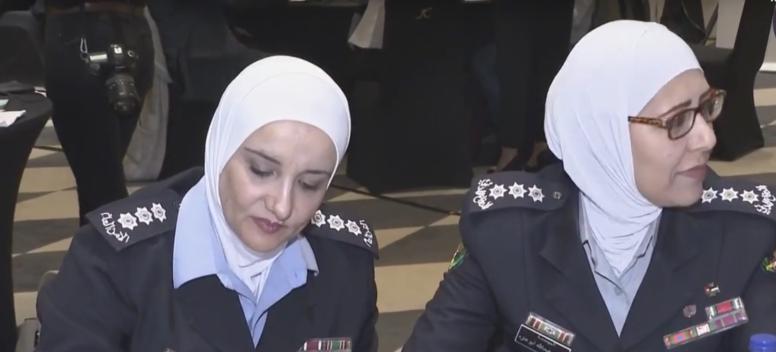 Given women's capacity to contribute to peace and security, any gaps in their participation in the security sector weaken Jordan's ability to protect itself and all of its citizens. Women, for example, are far better placed to carry out security searches of women than men, given the cultural norms that prevent contact between strangers of the opposite sex. Equally, women who have been subjected to gender-based crimes are more comfortable reporting them to female officers. Any constraints to women's participation in peace and security also fuel disillusion and frustration among women who feel they are denied both equitable opportunities and a stake in the future of their country. 
In 2000, the United Nations Security Council adopted Resolution 1325 on Women, Peace and Security, reiterating the importance of women's participation in these sectors and calling on countries to increase that participation and incorporate gender perspectives into peace and security efforts. Jordan responded to this Resolution by developing The Jordanian National Action Plan to mobilise national institutions for its implementation. The Plan aims to improve women's participation and voice in Jordanian society at large and target the barriers to their meaningful participation in the security sector. 
In 2018, MAGENTA, an independent consultancy, was brought on board by UN Women and the Jordanian National Commission for Women (JNCW) to design a four-year social behavioural change communications Strategy that would create an enabling environment for the Jordanian National Action Plan. The Strategy aimed to: 
boost government support for the Jordanian National Action Plan 
change public attitudes on the presence of women in the peace and security sector
shift perceptions to support women seeking roles in these sectors, including institutional attitudes towards women in leadership roles, and 
generate a public discourse on the importance of addressing peace and security issues specific to women.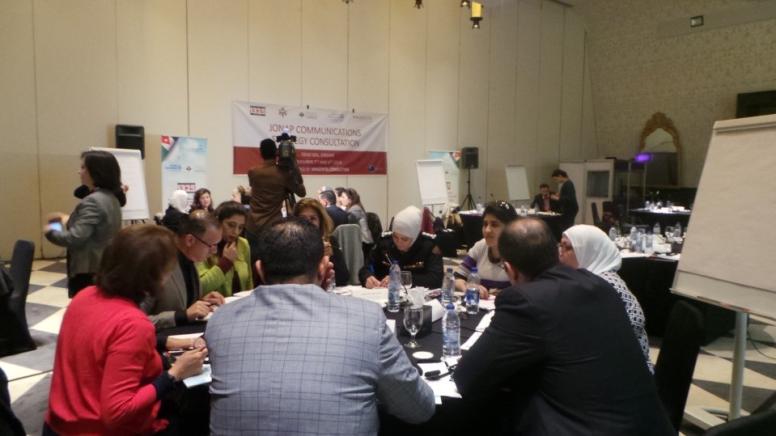 Designing a social and behavioural change communication approach
A Social and Behavioural Change Communication approach was needed to challenge, shift and reframe mainstream narratives and beliefs about gender and acceptable behaviour for Jordanian men and women. All of these are shaped by personal experiences as well as the prevalent norms in communities and the wider world around us. Previous approaches that have focused only on structural change (such as passing policies on gender quality) have had limited success because the environment in which they take place is not supportive of, or conducive to, positive change. One female former boxer, for example, noted that some men are resistant to women's equitable participation as they feel threatened by it. A successful approach needs to address such attitudes and social norms. 
MAGENTA began by applying a robust approach to understanding the dynamics and influences in communities that shape such norms, using tried and tested analytical frameworks. In Jordan, MAGENTA's support was based on two analytical frameworks: the Human Decision Making Framework (Figure 1), which examines psychological, sociological and environmental drivers of behaviours, and the Stages of Change Model (Figure 2), which is rooted in the idea that behavioural change takes time and that the first step is for people to acknowledge the existence of a problem that needs to change. The framework and model were chosen to enhance understanding of the multi-faceted and interactive factors that contribute to leverage points for behaviour change. 



Next, we framed the communications approach around three key questions, each with their own thought process.
Question: Why do people behave the way they do?
Thought process: An analysis of the drivers behind current behaviours and the identification of existing barriers to the adoption of new behaviours.
Question: How do we encourage people to adopt new behaviours?
Thought process: A process of defining the communication products or activities that will promote the desired behaviour
Question: How, where and when do we discuss this with them?
Thought process: Turning the creative direction and audience insights into targeted, effective, actionable, scalable and sustainable ideas for communications activities. 
Key findings
Coverage in Jordanian media of the strategy development workshop conducted by MAGENTA. Note: Video only available in Arabic. 
To develop the communications strategy, MAGENTA used a participatory process and engaged key stakeholders – including the Jordanian Armed Forces, civil society and the Jordanian National Commission for Women – to gain insights grounded in local realities. Together, we used the two analytical frameworks to pin down the roles of society, media and government in shaping perceptions, norms and behaviours around the participation of women in the peace and security sector. This generated the following insights.
Women feel more comfortable reporting gender-based crimes to female security officers.
Men and women in Jordan are reluctant to openly discuss topics related to gender equality.
Jordanians believe that attitudes about women working in the security sector are determined by personally held views, and not necessarily by sociological and environmental factors.
Some Jordanians prioritise personal gain over genuine equity between men and women.
Jordanians have great respect for their security institutions and see them as critical for peace in the country.
Promoting changes in attitudes and norms can be uncomfortable in any context. Some degree of discomfort is needed for the successful implementation of the Jordanian National Action Plan and the Communication Strategy, given its focus on a well-respected institution. It was vital, however, to ensure that messages were culturally sensitive, positive and not inflammatory or offensive, as any backlash could compromise the implementation of the Plan.
A retired female Senior Office also noted that while there are men who do support women's equitable participation in the security sector, they are not speaking publicly. A Political Officer at the US Embassy in Jordan reported that, given that men are still the decision-makers in many contexts, ensuring their buy-in for the Jordanian National Action Plan and identifying men who can be allies and advocates for women is vital for the success of these efforts.
Activities
The Communications Strategy recommends and outlines both mass media and community-based campaign activities to attract and engage ordinary citizens and high-level officials, aiming to achieve long-term impact and the diffusion of new attitudes across society.
'Women, Peace and Security Champions' are included in the strategy as influencers to promote the Jordanian National Action Plan and generate additional media and public attention for the campaign's activities. They will be invited to speak at local universities and discuss their experiences, while religious leaders will be engaged through workshops to raise awareness about the Jordanian National Action Plan, its objectives, and how it can benefit people in their communities.
Anticipating that Jordanians may not understand why they should care about the Jordanian National Action Plan, a human-interest series of short videos will feature narratives about real Jordanian men and women to emphasise how the Plan makes a real difference to people's lives. In addition, Action Plan representatives and individuals from the human-interest series will appear on talk shows to encourage discussion on cultural norms and keep the Plan high on the national agenda.
Community level events are included to encourage communities to take a lead in supporting women and girls in the peace and security sectors.
The Jordanian Armed Forces are respected across Jordanian society, by both men and women. In addition, Jordanians are patriotic and care deeply about the reputation of their country. However, discriminatory social and cultural norms leave people unwilling to discuss real challenges, such as providing equitable opportunities for men and women and removing the constraints to women's participation in preserving the security of their country and their fellow citizens.
Although this work is at an early stage, by using a participatory Social and Behavioural Change Communication approach, MAGENTA has been able to start that conversation and devise a plan with local buy-in that will sustain discussions on this important topic in a way that is sensitive, strategic and impactful.
About the author - Laramie Shubber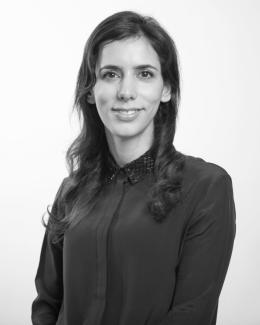 Laramie Shubber is a Program Officer at MAGENTA with substantial experience managing social and behavioural change communication and research programmes. She is passionate about finding creative ways to affect positive social change and has developed communications campaigns throughout the Middle East and West Africa that are informed by behavioural change science and research. She previously coordinated communications for a humanitarian research and evaluation company in Turkey, and worked as trainer in Rwanda to deliver creative workshops to facilitate post-conflict reconciliation. Find out more about Magenta on their website, Twitter and Facebook.