Diagram/Infographic

31 March 2018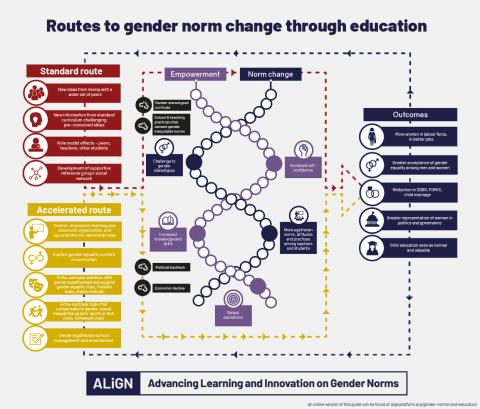 This diagram shows two routes to gender norm change through education: (1) a 'standard' route, showing how norm change can occur in schools that make no special efforts to promote gender equality; and (2) an 'accelerated' route, which shows what can happen when schools actively promote gender equality. In the latter, the 'standard' effects are often stronger, and there is less risk that norm change processes will be interrupted by backlash or inertia.
When viewing the diagram, select the desired route to reveal the outcome pathway and click on the blue or purple coloured dots in the central empowerment and norm change strands to show more detail.
This diagram was created as part of ALIGN's thematic guide on Education and Gender Norm Change.