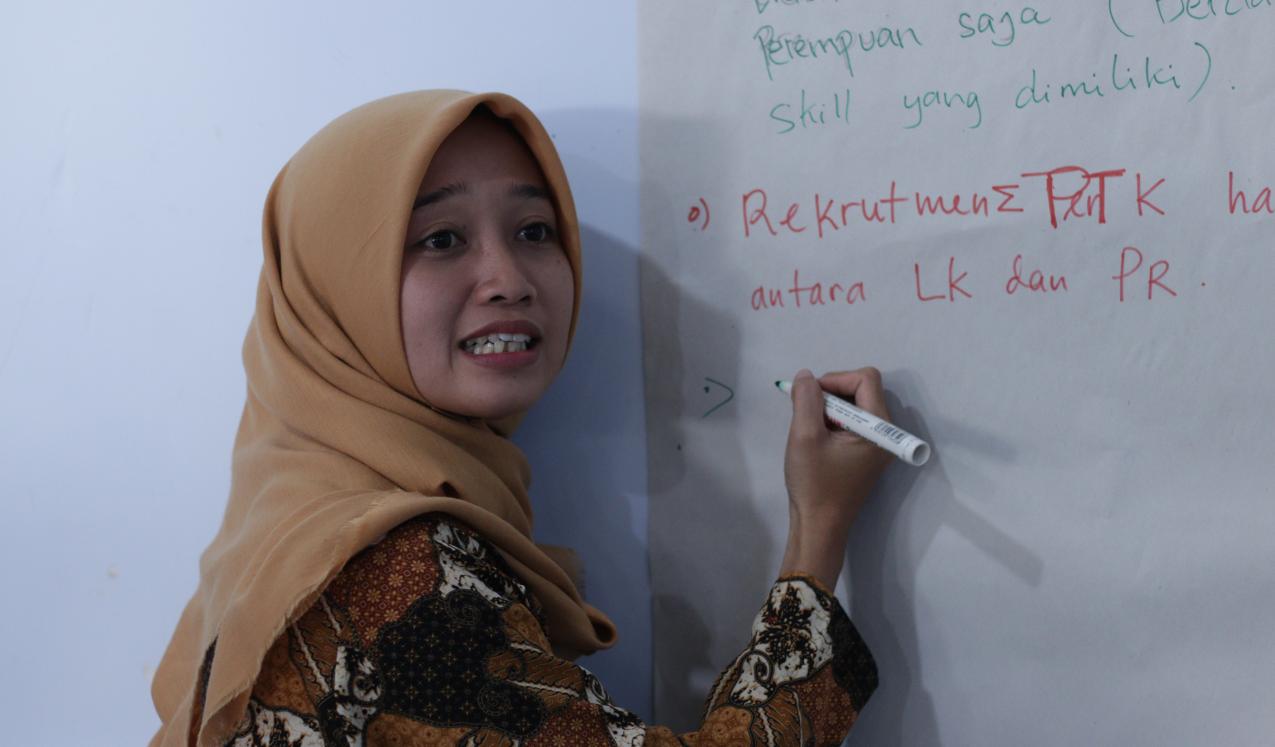 Briefing paper

2 May 2019
Reflections on a gender-sensitive pedagogy workshop in religious schools in Malang, Indonesia
Author: EQUIC
Published by: ALIGN
Key messages
Schools play a central role in shaping and instilling gender norms amongst students and in setting expectations for their later lives.
In Islamic schools (madrasa and schools belonging to Islamic institutions), where religious teachings and texts are interpreted in a male-dominated context, girls are rarely encouraged to fulfil non-traditional roles.
Yet girls' results in those schools are generally higher than those of boys in many subjects. They are perceived and expected to be more timid but more diligent than boys. This influences how teachers treat and interact with their pupils.
With the aim of encouraging gender-equitable teaching practices, EQuIC's InsPiRASi project held training and mentoring sessions with teachers and school managers to support learning on gender-responsive and student-centred pedagogy.
While the trainings increased knowledge and changed certain behaviours at the individual level, little change occurred at the organisational level.
Some school managers also realised that corporal punishment is no longer an acceptable practice and have replaced it with disciplinary techniques that avoid violence.
However, the results of the intervention with regard to the uptake of gender-sensitive pedagogies and practices in schools were not as positive as expected, particularly with relation to school policy changes.
This is partly linked to most of the teachers and school managers failing to see a gender gap in participation by students as a big issue, which seemed to be the only visible dimension of gender inequality that they noticed.
The intervention should have been more intensive in order to have better results and more influence on schools. The workshop, mentoring visit and a midterm meeting might not have been sufficient to encourage school managers to implement more responsive policies and programmes.
In future, EQuIC will implement multiple trainings, mentoring sessions and advocacy activities targeted at whole school communities to include management, teachers and students, as well as relevant decision-makers within government.