Briefing paper

1 September 2020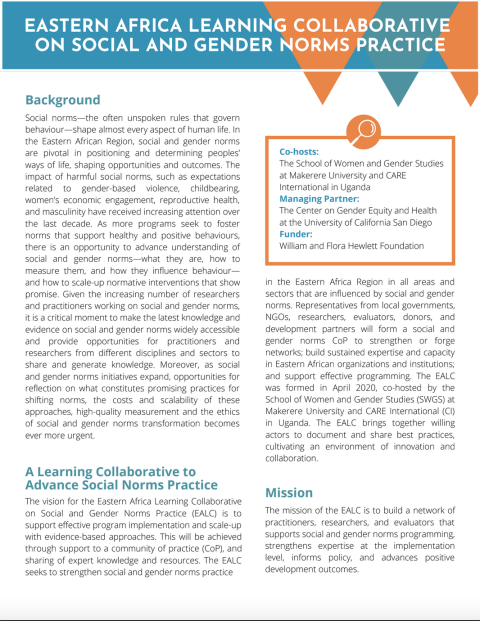 The Eastern Africa Learning Collaborative on Social and Gender Norms Practice (EALC) aims to build a network of practitioners, researchers, and evaluators in the Eastern Africa Region that supports social and gender norms programming, strengthens expertise at the implementation level, informs policy, and advances positive development outcomes. Representatives from local governments, NGOs, researchers, evaluators, donors, and development partners form a social and gender norm community of practice (CoP) to strengthen or forge networks; build sustained expertise and capacity in Eastern African organizations and institutions; and support effective programming.
The EALC is guided by the following objectives:
Promote networking and the exchange of experiences among practitioners, researchers, and evaluators in the Eastern Africa Region.
Promote the integration and adoption of evidence-based social and gender norms approaches in policy and programming in the Eastern Africa Region.
Share the latest social and gender norms evidence, approaches, and resources.
Strengthen social and gender norms program implementation, research, and evaluation.
Generate and share knowledge and innovations nationally, regionally, and globally.
Build capacity of Higher Education Institutions in gender and social norms theory and methodology.
Mobilize resources and promote collaborations within the CoP to strengthen social and gender norms practice.