Case study

1 January 2022
IMAGINE: design and test interventions for delaying the timing of first birth among married adolescents in Niger and Bangladesh
Author: Care
Published by: Care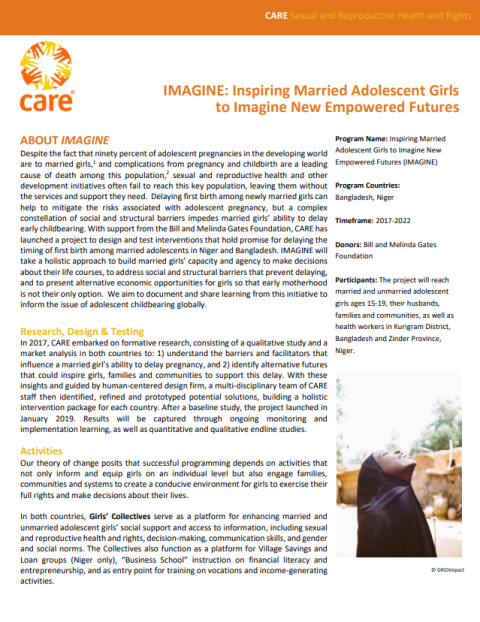 Inspiring Married Adolescent Girls to Imagine New Empowered Futures (IMAGINE)
Background
Ninety percent of adolescent pregnancies in the global South are to married girls, and complications from pregnancy and childbirth are a leading cause of death among this population. Empowering adolescents to delay the timing of their first pregnancy can result in positive health and economic outcomes, such as healthy pregnancies and infants, completing their education, and economic prosperity. Unfortunately, married adolescent girls face numerous social and structural barriers that impact their ability to delay childbearing.
Intervention
IMAGINE uses a holistic approach that combines education on reproductive health, business skills, and life skills for married and unmarried adolescent girls and husbands, as well as health provider training on adolescent and youth-friendly health services, community dialogue sessions to address harmful social norms impacting adolescent childbearing, and income-generating opportunities so that motherhood is not girls' only option. Activities are designed to inform and equip girls while engaging families and communities and influencing systems to create a better environment for girls to exercise their rights and make decisions about their health and lives.
Programme achievements
Results will be captured through ongoing monitoring and will be analyzed and summarized after implementation is complete.
The importance of IMAGINE
Married adolescents are often neglected by development and health programs, which tend to focus on either preventing child marriage or meeting the reproductive health needs of adult women. IMAGINE is addressing this gap by testing a comprehensive adolescent empowerment package aimed at building married girls' capacity and agency to make decisions about their lives. The project addresses the social and structural barriers that impede their ability to pursue alternative futures to early motherhood.