Action Reaction: Understanding and overcoming backlash against girls' exercise of agency in India
Published by: Dasra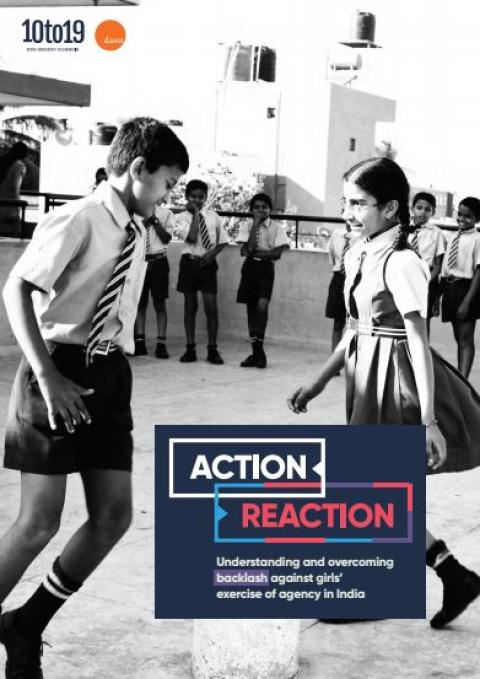 Empowerment of women and girls is not only their entitlement, but also a key factor underlying national development, poverty alleviation and success in reaping the demographic dividend. In India, over the last several decades, both civil society organizations and the national and state governments have made special efforts to empower girls, in order to ensure that they are equipped with agency, including knowledge, power, voice, and self-efficacy. The pace of social change, however, maybe thwarted by the unintended adverse consequences of, or backlash against attempts to challenge existing power structures and relations.
Unfortunately, the literature on backlash against expressions of agency by women is sparse globally, including in India, and that on backlash against girls, even more so. Without a good understanding of the manifestations of backlash, it is difficult for programs aimed at empowering girls to anticipate and mitigate likely risks that girls may face as they break away from traditional norms and practices.
The aim of this paper is to better understand the adverse consequences, or backlash, faced by girls who express agency or defy traditional norms of femininity, and by organizations that implement programs intended to empower them, and to draw conclusions about ways of overcoming such backlash. We first review available theories of backlash and offer an operational definition of backlash against girls that guides our work, and briefly review the global and Indian literature relating to backlash against women and girls who deviate from traditional unequal gendered practices. We then report findings from a pilot study intended to explore the situation from the perspective of youth-serving organizations in India on the extent and nature of backlash experienced by girls and the organizations themselves. Finally, we synthesize findings from our survey, drawing on the strategies employed by responding organizations, to make recommendations for youth-serving organizations in India.