Webinar/event recording

11 July 2018
ALIGN webinar resources: cross-country perspectives on gender norms
Author: rgeorge
Published by: ALIGN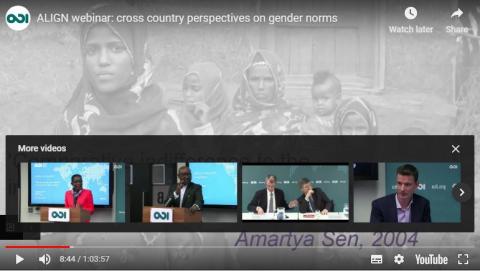 ALIGN held its inaugural webinar on 10 July 2018 to discuss 'cross-country perspectives on gender norms' with an audience of 91 participants who tuned in for this session. Watch the recording and download the slides at the bottom of the page.
Gender norms are the often implicit, informal rules by which people live that can lead to harmful attitudes, behaviours and actions such as violence and discrimination against women and girls. These are complex but critical concepts that need to be understood for better development policy and programming. While quality evidence on how to shift gender norms is growing, improved monitoring, evaluation and dissemination of evidence is vital for sustainable change.
ALIGN's launch webinar introduced our platform and discusses some of the key debates and concepts shaping cutting-edge development work on addressing harmful gender norms. Drawing from ODI's research on gender norms alongside the experiences of projects in Uganda and India, the panel discussed:
What are the key concepts and evidence for understanding gender norm change?
How can programmes better respond to emerging evidence and context-specific dimensions of gender norms?
What challenges, opportunities and learnings can be drawn from projects in Uganda and India to inform policy and practice?
Chair
Dr. Suzanne Petroni - Principal & Owner, Gender Equality Solutions
Speakers
Dr. Caroline Harper - Head of Programme and Principal Research Fellow, Gender Equality and Social Inclusion, ODI
Dr. Ravi Verma - Regional Director, Asia Regional Office, International Center for Research on Women (ICRW)
Lori Michau - Co-Director, Raising Voices