Case study: Playing games to promote family planning in Nepal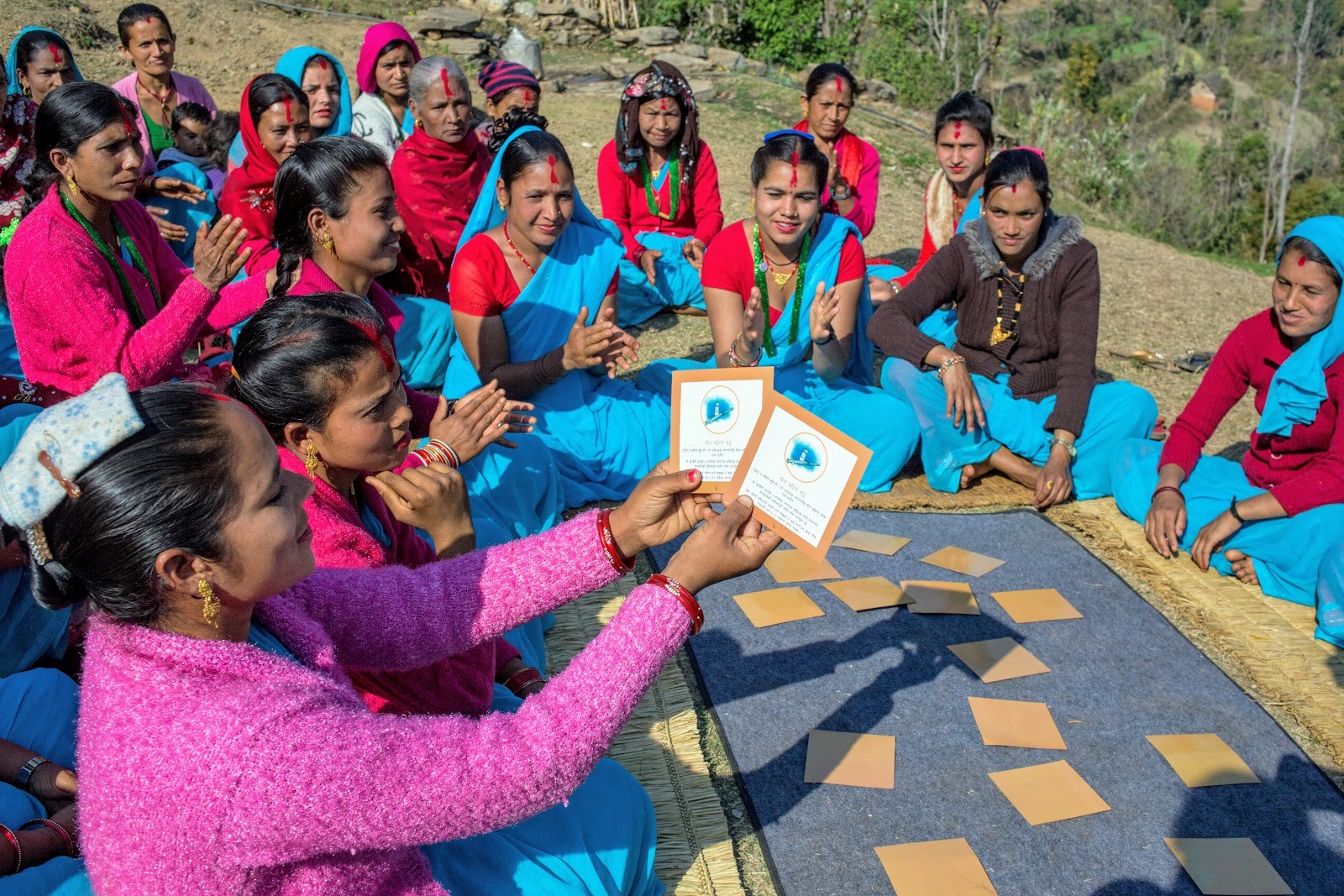 "Our community is changing because of Pragati, and the games make it easy to pass on family planning messages to the community." – Shyamkala, 24-year-old female from Pyuthan District, Nepal
In Nepal, a diverse country comprised of more than 100 ethnic groups, women's reproductive health behaviours and outcomes are closely tied to strongly held social norms. Open discussion of fertility, reproductive health, and contraception is considered taboo, even among married couples, and sometimes limits discussion with health care providers. Restricting these conversations creates uncertainty among women and can prevent women from accessing accurate information about their own bodies and reproductive health.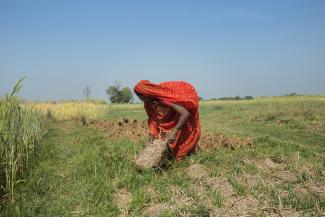 The 2016 Nepal Demographic Health Survey reported that the contraceptive prevalence rate (CPR) in the country was 53%, stagnating since 2006. Furthermore, the unmet need for family planning among married women was 24% and was even higher among young women aged 15-19 years and 20-24 years at 35% and 33% respectively. In some districts, where there are higher concentrations of marginalized ethnic communities, the rates of unmet need and total fertility rate are significantly higher than national averages.  
In 2013, Save the Children and the Institute for Reproductive Health at Georgetown University (IRH/GU) began implementation of the five-year, USAID-funded Fertility Awareness for Community Transformation (FACT) project in Nepal. The goal of the FACT project was to test an intervention to improve fertility awareness and expand access to Fertility Awareness-based Methods (FAM) at the community level to improve family planning use and reduce unmet need. FACT was implemented across five districts in Nepal (Bajura, Nuwakot, Pyuthan, Rupandehi, and Siraha) and focused on reaching married and unmarried adolescents and marginalized ethnic groups, castes and religious communities (Janajati, Dalit, Muslim, and Chhetri). 
PRAGATI – "Fertility Awareness for Quality of Life" 
Through close partnership and collaboration with the Family Health Division, Ministry of Health and Population and District Public Health Offices, the FACT Project designed Pragati – a series of nine interactive games that diffuse information about fertility and family planning in group settings to community members, catalyzing conversations about reproductive health with others in the community. The games were developed through an iterative process of collecting formative research data with input from community stakeholders, to understand the ways in which community members share information and access services.
The nine Pragati games fall into three categories: Fertility Awareness, Family Planning methods and their Side-Effects, and Social Norms. In addition to increasing awareness about fertility and family planning methods, the games dispel myths and misconceptions about the side-effects of family planning methods and also facilitate discussion and critical reflection around the negative social and gender norms that influence family planning behaviors, such as son preference and menstrual hygiene taboos. Through the games, participants critically reflect on their own attitudes and the expectations of others that impact their reproductive health behaviors and decision making. 
FACT trained and provided support to a wide network of community volunteers and partners to play the Pragati games in their communities:
Female Community Health Volunteers delivered and promoted the games as part of their regular community-level health promotion activities, particularly with local mothers' groups, called Health Mothers Groups (HMG), that FCHVs convene and meet with on a monthly basis 
Health Mothers' Group Champions were nominated by other HMG members
Male Champions engaged men through existing community groups and platforms
Health Facility Providers promoted the community sessions and reinforced Pragati messages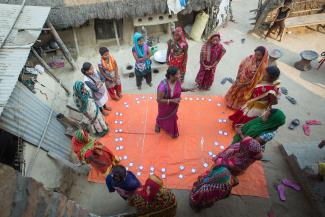 These community promoters conducted sessions in a variety of venues to play the games with as many community members as possible – during Health Mothers Group meetings with new and experienced mothers and married adolescents, in school with adolescents, during the meetings of other community groups, or with groups of men and women in front of a neighbour's home. As the games addressed sensitive topics that community promoters were often uncomfortable with discussing, FACT provided significant coaching and supervision to promoters to teach them how to facilitate discussion and reinforce key messages. Most importantly, the training and coaching encouraged promoters to reflect on their own values and norms.
Pragati Pilot Implementation Results
"In the past, [husbands] used to say that they wanted a son but now they are okay with either a son or a daughter… In the past, they used to marry another women if we couldn't give birth to son… Now even if we have daughters they think it's their fate and go along with that." – Married young woman, Pyuthan District
The Pragati intervention was tested and piloted for a 15-month period in the five project districts. During this period:
Community promoters organized 9,315 game sessions, reaching 118,123 individual contact points
66% of the individual contacts were identified as marginalized community members
25% of contacts were men, suggesting that men were also interested in the games and their content
A mixed-methods, quasi-experimental study was conducted to assess the impact of the Pragati intervention on uptake and intention to use family planning. Household level surveys were conducted across the five districts before and after the study implementation with a sample of 2,430 women and 1,215 men between the ages of 15-25 years. Complementary qualitative data was collected through 81 focus group discussions and in-depth interviews to describe how game messaging was received and diffused through the community and to understand the factors influencing family planning use.
The endline evaluation findings showed that:
All of the study participants reported enjoying the Pragati games and 97% suggested they would recommend the games to others
In the intervention communities, women's and men's knowledge of general fertility and the fertile window increased significantly from baseline
Men and women who played at least 4 Pragati games were 7.4 times more likely to have a high fertility awareness score
Community norms related to family planning changed, creating a more supportive environment for utilization of FP methods. Compared to women in the comparison communities where Pragati was not implemented, women in the intervention communities at endline were:

2.1 times more likely to report positive attitudes toward family planning in their community
1.9 times more likely to view couples communication positively
1.4 times less likely to feel pressure to have a son
1.5 times less likely to feel pressure to have child immediate after marriage 

Family planning use increased in the intervention communities from 31% at baseline to 35% at endline, compared to control communities where it decreased from baseline to endline
Women with high fertility awareness were 2.1 times more likely to be currently using a family planning method
Women who perceived a high acceptability of family planning in their communities were 1.9 times more likely to report intention to use a family planning method in the next three months after the survey and 3.6 times more likely to use a family planning method in the next six months after the survey.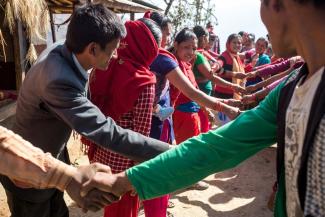 Overall, participants enjoyed playing the games and learning about topics that they had always been interested in but too afraid to discuss with others. They appreciated the new approach to learning as the games were engaging and accessible to everyone, including low-literate individuals. The simplicity of the games increased the effectiveness of community-level volunteers to implement and catalyze change and norms change in their communities. As the games were so well-received in the community, they spread beyond the initial platforms to schools, agricultural groups, loans and finance groups, and women's empowerment groups, indicating that the content and format of Pragati can be integrated into and relevant for non-health programs.