Commission on the Status of Women (CSW62)
Organiser:

United Nations
Location:

UN Headquarters, New York, USA
ALIGN took part in two events at CSW62, details of which are below:
Changing gender norms to empower rural women and girls
On 8 March 2018 at the United Nations Headquarters, ODI and ALIGN co-hosted the panel discussion 'Changing gender norms to empower rural women and girls.' This UN-hosted event explored the latest knowledge and debate on the impact of harmful gender norms and the policies and practices that can best support positive change.
The following speakers shared their perspectives on knowledge around gender norms and the key learnings and evidence relevant for policy to empower women and girls, particularly those in rural contexts:
Dr. Anju Malhotra, Principal Advisor, Gender & Development at UNICEF
H.E. Ambassador Geraldine Byrne Nason, Permanent Representative of Ireland to the United Nations and Chair-designate of the CSW
Dr. Caroline Harper, Principal Research Fellow and Head of Programme, Social Development, at ODI
Dr. Purna Sen, Director of Policy at UN Women
Chernor Bah, Co-Founder & Exective Director of Purposeful Productions
Professor Nancy Glass, Johns Hopkins School of Nursing
Sizani Ngubane, South African activist and founder of the Rural Women's Movement, and 2018 NGO CSW/NY Woman of Distinction.
The event highlighted the importance of understanding gender norms to better inform policy and practice, drawing on some of the latest knowledge and evidence on gender norm change from a range of countries and perspectives.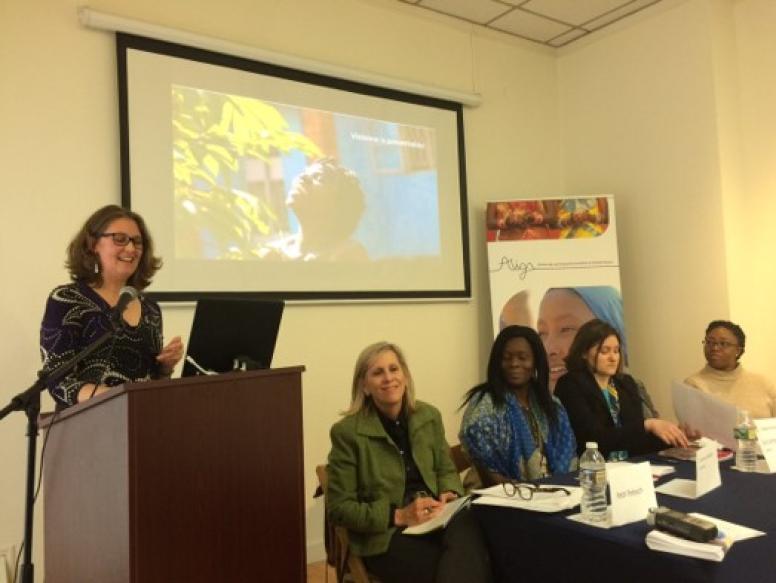 Shifting norms for gender justice: evidence on what works
On 16 March 2018 at the UN headquarters in New York, ALIGN hosted the panel event 'Shifting norms for gender justice: evidence on what works.
The speakers were:
Patti Petesch, Consultant & Expert Advisor, GENNOVATE (session chair)
Workneh Yadete - Ethiopia Research & Uptake Coordinator, Gender and Adolescence: Global Evidence (GAGE)
Zoe Carletide - U-Report Manager, World Association of Girl Guides and Girl Scouts
Christina Kwangwari - International Project Manager, Women's Rights, ActionAid International
Lori Michau - Co-Director, Raising Voices
Aukje te Kaat - Research Manager, Aflatoun
Hadeezah Haruna-Usie - Gender Team Lead, Girls Connect Nigeria, Girl Effect
Rachel George - Senior Research Officer, Overseas Development Institute (ODI) & Coordinator, ALIGN platform
Event background:
Gender norms have risen fast up the agenda of major development actors and donors. This growing recognition is based on the premise that gender equality requires more than just parity in access to education and other services. To be truly transformative, we need a radical rethink of societies' beliefs, behaviours and values to achieve equal access and sustainable gender justice.
Yet there is a need for better evidence on how gender norms change, the roles different actors can play, the actions they can take, and the opportunities and constraints they face. The Overseas Development Institute (ODI) and Advancing Learning and Innovation on Gender Norms (ALIGN) Project, host a dynamic and interactive event at this year's Commission on the Status of Women (CSW) on how we can shift norms for gender justice, exploring the latest evidence underpinning what works.
The event brings together a diverse set of actors working on research projects to understand the latest evidence on harmful and discriminatory gender norms and highlight the work of NGOs and programmes working to change them. The latest learnings are shared in the form of 'project spotlights' from varied contexts, with discussion and reflection on how best to apply these to inform future agendas.