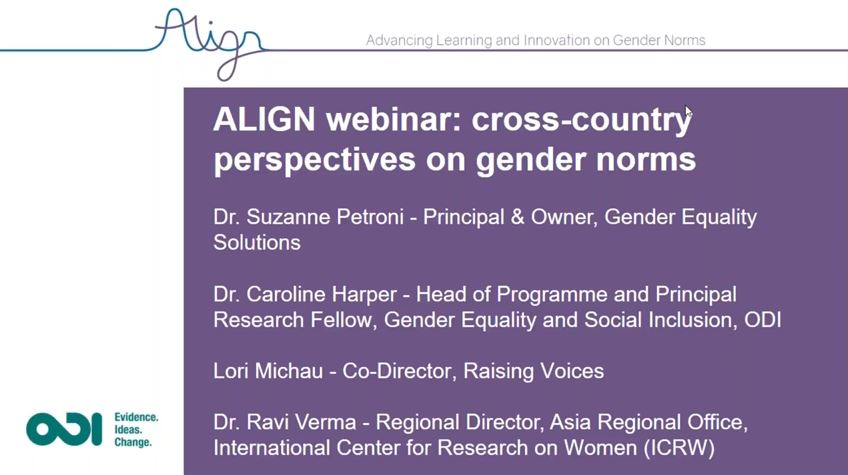 10 July 2018, 15:30 - 16:30 BST
ALIGN webinar: cross-country perspectives on gender norms
Organiser:

ALIGN
Location:

Online
Gender norms are the implicit, informal rules by which people live that can lead to harmful attitudes, behaviours and actions, such as violence and discrimination against women and girls. These complex but critical concepts need to be understood for better development policy and programming. While quality evidence on how to shift gender norms is growing, improved monitoring, evaluation and dissemination of evidence is vital for sustainable change.
ALIGN's launch webinar introduced our platform and discussed some of the key debates and concepts shaping cutting-edge development work on addressing harmful gender norms. Drawing from ODI's research on gender norms alongside the experiences of projects in Uganda and India, the panel discussed:
What are the key concepts and evidence for understanding gender norm change?
How can programmes better respond to emerging evidence and context-specific dimensions of gender norms?
What challenges, opportunities and learnings can be drawn from projects in Uganda and India to inform policy and practice?
Chair: Dr. Suzanne Petroni - Principal & Owner, Gender Equality Solutions
Speakers:
Dr. Caroline Harper - Head of Programme and Principal Research Fellow, Gender Equality and Social Inclusion, ODI
Dr. Ravi Verma - Regional Director, Asia Regional Office, International Center for Research on Women (ICRW)
Lori Michau - Co-Director, Raising Voices
Questions and answers from the webinar
Q: It is so important to measure other dimensions of gender equality & relationship dynamics beyond traditional measures like 'decision-making'. Has SASA made the evaluation instruments and questions available to the public? Has SASA done any validity testing, cognitive interviewing, etc. around these questions and measures?
A: All the SASA! tools are online. After the baseline survey we entered into a process of validity testing which included cognitive interviewing around the questions – these led to substantial revision of many of the questions in the household survey and qualitative tools.
Q: What is the experience of SASA around scalability? Could you discuss whether men's behaviour and attitudes have changed or were you accelerating a shift in gender norms? How did you measure change in gender norms?
A: SASA! is being scaled by a variety of organizations in diverse settings. Please see the Community for Understanding Scale Up (CUSP) for more on scaling social norm change approaches, and also Revising the Script, which focuses on what scale means and how it is being done in different settings with social norm change approaches.
As SASA! is a community-based approach aiming to change the broader social norms, we noted some shifts in acceptability for women and men to move out of traditional gender norms. But as mentioned in the presentation, we felt that using gender norm change at the household level as an entry point and focus for better couple communication and relationship building was ineffective.
Q: How long did it take, and much did it cost to implement SASA in the SASA communities in Uganda?
A: SASA! was implemented over three years, but because of political unrest, we had 2.8 years of actual programming. A costing study was done with a cost-effectiveness analysis (CEA) is a way to compare the changes in health outcomes and costs associated with alternative interventions. The total cost of developing the SASA! Activist Kit over a 3-year period (2005-2008) was $138,598.
Costs associated with the implementation of SASA! in Kampala, Uganda (2008-2012) included items such as staff time, training activists and staff, transport to communities, SASA! activities, office rent, and supplies. Total cost of implementing SASA! over a 4-year period (2008-2012) was $553,252 which 'translates' to $5 per community member per year in the SASA! target population.
351 community activists worked to deliver 11,877 activities over the course of the 4-year intervention. The estimated costs to support these activists was $394 annually, with an average cost of $47 for each activity. View the costing paper.
Q: How can adolescent SRHR programmes be designed to address the generation gap in negotiating gender norms among members of the support system in order to ensure sustained impact of interventions?
A: Working across and with different generations and with both men and women, boys and girls, is key, given that often the older generations are the enforcers of discriminatory gender norms, including in relation to sexual and reproductive health and rights (SRHR). Older men and women, for instance, are often the ones who instruct girls and boys around sexual health-related behaviours (including through initiation ceremonies and rituals) and can also be who granddaughters/sons turn to, given that communications is often easier than between these generations than proximate ones. Hence, programmes that engage older women and men individually, as well as having programmes promote dialogues across the generations are important. Additionally, programmes may consider raising awareness for all generations about the effects of discriminatory and/or harmful gender norms on sexual health. Service providers should also be included in such programming.
There are some useful resources from programmes working across generations, such as the Grandmother Project and those run by HelpAge International which can provide additional learning about how successes and challenges faced in addressing SRHR and gender norms.
Q: What is a good quality, robust indicator to track change in gender norms?
A: There is not one single indicator, as gender norms play out differently in different spaces. Norms related to sexuality and to women's and girls' economic empowerment, among others, seem to be the most sticky and resistant to change. Analysis of differential employment and pay statistics and trends over time can give an indication of norm change in the economic sphere, as can attitude data, such as that collected through surveys such as the World Values Survey, the regional barometer surveys and the ILO-Gallup study of attitudes to women working.
In more specific sectors and contexts, triangulation of different data can give strong indications of norm change. For example, for gender-based violence, one can look at attitudinal, prevalence and legal data on the same issue – such as national laws on violence against women, prevalence of violence against women, and the percentage of women and men who justify domestic violence under certain conditions. See resources for more examples.
The following guides also suggest possible indicators and data sources for some areas where gender norms play an important role in influencing women's and girls' outcomes:
Q: What do you see as some of the key data challenges in the gender norm space and how will the CoP engage them? Specifically, will ALIGN lead in the gender data space, and is this part of the online platform?
A: Norms are seen as complex and personal and as they are centred around attitudes and behaviours they are indeed difficult to capture. For example, a person can express an attitude in public but go home and carry out a behaviour which does not reflect that attitude, such as saying they are against hitting women, but then beating their wife. Other areas such as the care economy have been very difficult to record because of the very various tasks and personal nature of undertaking domestic work. However, there are now data sets which have captured the time spent on the care economy and this is expanding.
ALIGN is partnering with some organisations working on gender norms, such as Data2X, and will help our community identify good sources of data moving forward. There has been a lot of recent innovation on tools for measuring norm change. ALIGN does not have the capacity to develop new data or host massive amounts of data, but we have a tools and measurement section on our online platform which we will build over time, as well as guidance for platform users on where to find data on norms. Further, we have a curated set of tools for measuring gender norms related to child marriage which can be used more broadly.
Q: Is there any good practice on how to address gender norms which are non-binary? How can we address the gender norms of the LGBTIQ+ community in development?
A: ALIGN is working with members of this community to help platform users understand LGBTQI+ issues in development and to collate materials that relate to gender norms and sexual orientation and gender identity. This is a nascent issue for the development sector, although of course a very longstanding rights issue. ALIGN will soon be hosting some introductory materials on these issues that help users understand how gender norms are framed in binary and heteronormative terms, and ways of taking a more inclusive approach. Watch this space.
Q: What do you think about gender norms in North Africa? In Tunisia, international communities think that women's rights are quite advanced but it's not translated into practice.
A: The question on Tunisia is an excellent one – there is much potential for work to be done on norm change in countries with both Islamic and secular legal systems, particularly in the areas of norms related to marriage and personal status. As noted, much progress has been perceived particularly in the legal and policy realm in Tunisia, which holds some of the most gender egalitarian views in the MENA region, and yet there remains a disconnect between progressive policies in the region and women's lived experiences. Recent reform efforts to reflect more equal norms, for example around women's equal rights to inheritance in Tunisia and Morocco, may reflect social and gender norm change, some of which have been joined by religious leaders. The drivers of this change and the potential it holds to cement more egalitarian legal, religious, institutional and social changes here and across the region require deeper understanding.
ALIGN is hoping to profile resources on its online platform that can help community members garner more specific knowledge related to particular country contexts. We welcome recommendations for resources and programmes on gender norm change in North Africa that we can highlight to the broader community.
Q: I would appreciate very much if a discussion your society being sexually segregate society program is implemented in Saudi the country I am from and maybe we can both view different degrees of segregation.
A: Societies with laws and policies that not only discriminate based on gender, but also segregate people based on gender in physical spaces, provide important lenses from which to consider how to support community dialogue and education programmes that encourage people to critically reflect on gender norms in their communities. There is evidence of gender norm change even in challenging contexts, for example, in the ongoing movement against gender-based violence in India, supported by men and women alike, alongside political and traditional leaders.
In Saudi Arabia, recent legal gains reflected in the 2015 right for women to vote for and stand in municipal elections, the first issue of driving licenses to women in 2018, and new policies relieving restrictions on women in sport suggest that norm change is slowly being reflected in government policies. They also indicate, however, that small legal strides are not enough to ensure more equitable social relations. Important work is being done in this area to identify the impact of harmful norms. Support for gender norm change requires open civic spaces to encourage men and women in joint reflection and discussion, as well as opportunities to engage with religious leaders, political leaders, and other prominent 'gatekeepers.' There should also be ongoing sensitivity to the risk of backlash or resistance, which can be particularly salient where discriminatory gender norms are upheld and promoted by power in institutions such as political movements, schools or religions.
Q: If gender norms keep in place a hierarchical distribution of power and privilege that is essentially political - what are the most effective political levers to shift those norms? Technical levers that Caroline talked about - new knowledge, reframing the issue, etc. seem too technical and don't seem to address the underlying political incentives to maintain the status quo.
A: Excellent question. Yes, there are technical approaches which can be effective in smaller spaces, but need to be complemented by large shifts in the wider environment, especially to ensure sustainability. Social movements have clearly had a huge impact over centuries in some contexts, but may not be suitable to all contexts, or may operate under different visible forms. In other words, movements may not be visible crowds on the streets, but smaller actions by many people over time (nowadays also including actions in digital spaces such as social media) can help to create change. Legal systems are also very important. ALIGN will look into literature to support the community in this area. Thank you for raising the concern.