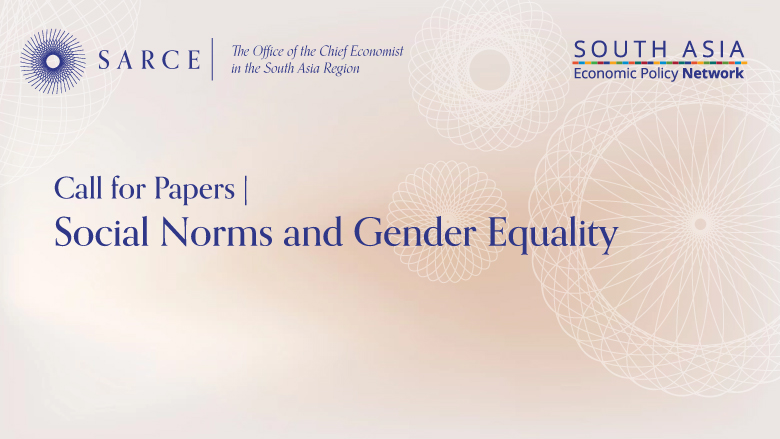 The 9th South Asia Economic Network Conference on Social Norms and Gender Equality
Organiser:

World Bank
Location:

Online
Contact:

South Asia Chief Economist Office - [email protected]
Gender equality in South Asia remains elusive. Across multiple dimensions – access to resources and choices inside and outside the household, participation in economic activities, as well as in social and political ones – gender gaps have remained stubbornly high in the region.
Ten years ago, the 2012 World Development Report on Gender Equality and Development emphasized social norms as a core obstacle in achieving gender equality. Since then, the theoretical and empirical literature on norms has advanced and it recognizes social norms as a key driver of gender outcomes. Social norms and beliefs determine patterns of individual behaviour by shaping mental models and narratives about identities, expectations and aspirations, and other views by which individual will process information and make choices. As such, norms exert powerful influence on decision-making and prompt individuals to adhere and conform with what they perceived to be expected behaviour in their social environment.
Many interventions to address gender gaps have been implemented in the region and important gains have been achieved. However, policies are often blind to social norms, leading to mixed successes: laws to promote women's land access via inheritance are being circumvented; active labour market policies have succeeded in training women but have failed to engage them into productive work; and financial support to women-led businesses has been transferred to male spouses, among others. Identifying and measuring more precisely the norms at play can be transformative to eliminate long-standing disparities in the region and can inform programs towards such a goal.
Against this backdrop, the World Bank and the South Asia Economic Policy Network invite papers addressing one of the following (or related) questions:
What do we know about the role of norms when it comes to women's outcomes and gender equity in South Asia?
How do norms interact with other barriers to gender equity?
Can norms be changed and how?
Call for papers
The Office of the Chief Economist in the South Asia Region is pleased to announce the 9th South Asia Economic Policy Network conference. Twice a year, for this conference, we invite research papers from the region and beyond on the topic of the upcoming South Asia Economic Focus, our bi-annual economic update for the region. In preparation for the Spring 2022 South Asia Economic Focus, the topic will be on "Social Norms and Gender Equality".
View event on World Bank website