Although school experience can be empowering and promote norm change in some ways, schools, teachers and students often reinforce existing norms through their policies and practices. Any given school, or individual teachers, are likely to reinforce some discriminatory norms but challenge others, for example, combating stereotypes about girls' and boys' abilities but at the same time, perhaps disproportionately asking girls to clean or serve visitors and boys to do heavier work, such as shifting furniture or carrying wood or water. The overall effect will depend on the balance of these emancipatory and discriminatory forces and how receptive individuals are to new ideas and practices. Schools with an explicit commitment to gender equality build on the transformative elements of 'standard' educational practice but also go further, instigating new, gender-egalitarian practices. 
School environments
A growing body of literature highlights the importance of a gender-equitable school environment to promote gender norm change. As well as gender-equitable curriculum content, teachers' practices within the classroom and the wider organisation of the school can both contribute to fostering principles of gender equality, which, in turn, challenge assumptions about the 'naturalness' of gender roles. This literature is summarised here.  
Levtov's (2014) overview of the impact of initiatives to promote gender-equitable values and practices among teachers (an approach increasingly termed 'gender-responsive' education) finds that they have generally improved learning outcomes and helped to promote more gender-equitable attitudes among students. The Forum for African Women Educationalists (FAWE) has, for the past two decades, undertaken a major training programme on 'gender-responsive pedagogy'. An evaluation of its impact concluded that it has been effective in helping teachers treat boys and girls more equally: they call on girls and boys to answer questions, challenge all learners more, and set up group work so that girls and boys learn from one another. 
Curricula with strong gender focus 
In recent years, efforts to promote more equitable gender norms have moved from their community base to mainstream education. These are sometimes part of personal, health, social and relationships education, and sometimes stand-alone initiatives delivered by external facilitators in partnership with schools. See Featured Resources for insights from evaluations of these initiatives. The best-known of these is the Gender Equity Movement in Schools (GEMS) programme (see box), which started in India and has now spread to Bangladesh, Viet Nam and the Philippines, among other countries. 
Programme Spotlight
Gender Equity Movement in Schools
GEMS was first piloted in 45 schools in Mumbai with 12–14-year-olds over two years. It has subsequently been implemented and evaluated in Jharkhand and Viet Nam, and in Bihar and Maharashtra states in India. In Mumbai, one group of participants were exposed to an awareness-raising campaign only; the other group also received 24 classes focused on gender equality and preventing gender-based violence. When the project was scaled up in Jharkhand, the classes were combined with a community awareness campaign for all participants. Students also received interactive workbooks to take home and follow up learning from the classes. 
In Mumbai, the evaluation found that the proportion of students believing girls should be at least 18 (the legal age) at the time of marriage increased, reaching nearly 100% at endline (though baseline figures were not reported). For those receiving a combined intervention (group lessons and a school campaign), the proportion of girls believing they should delay marriage until the age of 21 increased from 15% to 22%. Students who were involved in both group-based education and an awareness-raising campaign were 2.4 times more likely to oppose violence than those in the control group; those who took part in the awareness-raising campaign only were 1.5 times more likely to do so than the control group.
In Jharkhand, the GEMS curriculum was used in 20 schools with around 3,000 students. Participation had a clear positive impact on students' attitudes towards gender equality, with a significant increase in the proportion of participants considered to have moved from the 'low' gender equality attitudes category to the medium and high categories. In Danang, Viet Nam, GEMS was piloted in 10 schools with 11–12-year-olds and has been similarly successful in helping students move from medium to high commitment to gender equality. In both cases, students' attitudes in comparison schools changed significantly less.
Sources: Achyut et al. (2011); Achyut et al. (2016) and Verma et al. (2016)
Erin Murphy-Graham's studies suggest that gender equality education is likely to be far more effective when embedded in a broader education programme that helps people develop critical thinking skills and to develop as citizens, as well as mastering knowledge and core academic skills. Murphy-Graham found that participants in the Sistema de Aprendizaje Tutorial (SAT) approach to education (see box) had applied their learning to try to negotiate more gender-equitable practices in their home lives, and had the skills to turn aspirations into reality, challenging norms about appropriate occupations for women. 
Programme Spotlight
The Sistema de Aprendizaje Tutorial
The Sistema de Aprendizaje Tutorial (SAT) or Tutorial Learning System is a formal, co-educational lower and upper secondary education programme (grades 7–12) that operates in rural and peri-urban areas of several countries in Latin America. It aims to help students develop capabilities that enable them to take charge of their own intellectual and spiritual growth and, at the same time, to contribute to building better communities. A distinguishing feature of SAT is that the principle of gender equality is integrated into the curriculum, which encourages students to engage in critical thinking and dialogue to examine cultural norms. The textbooks use the metaphor of a bird to explain the idea that men and women are like two wings of a bird, and if the wings are not equally strong the bird will not be able to fly. This strong imagery stays with students and teachers during the programme and beyond. Discussing gender throughout the programme allows SAT students to question their assumptions and recognise instances of inequality in their own lives and communities. 
Alongside the programme's classroom-based academic content, SAT students take on other productive projects such as raising chickens, which allow them to develop practical skills they can apply in their daily lives. One reason why SAT has been recognised as a 'revolutionary' approach to secondary education in rural areas is because of its relevancy to the context in which students live. By combining high-quality academic content and the opportunity to apply their learning in practice, students become empowered to take action that can improve their lives and their communities. For example, a new feature of the programme in Honduras involves lessons that challenge students to identify the underlying causes of child marriage and early pregnancy, and to design a community-level campaign that will challenge social norms around these issues. 
The SAT programme was designed in the early 1970s by a Colombian NGO, the Fundación para la Aplicación y Enseñanza de las Ciencias (FUNDAEC). It now operates in Guatemala, Costa Rica, Nicaragua and Honduras, and as a non-formal education programme Kenya, Zambia and Uganda. A recent study by the Brookings Institution found that SAT's successful scale-up was partly due to it being expanded in a slow and incremental way, and its demand-driven pace, which helped ensure the quality of the programme.
 
School girls' clubs and gender equality clubs
Extra-curricular activities, such as girls' only or mixed-sex clubs promoting gender equality, can also help challenge discriminatory norms and practices, and sometimes norms related to powerful taboos. Typically school-based, these clubs combine multiple objectives: to enhance girls' self-confidence and communication skills, to educate members on aspects of gender equality and their legal rights, and, in some cases, to improve educational outcomes through study support. Contributing to change in discriminatory gender norms is generally an oblique rather than a direct objective, and likely to arise through the impacts of girls' clubs on the building blocks of norm change. 
However, there is qualitative evidence of girls (and boys) learning new information and changing attitudes to gender equality as a result of participating in school clubs as ODI studies in Uganda and Vietnam found.
"The school-based activities give us information about how we should not be ashamed of menstruation and should not let it stop us from going to school; we should not get married early because this will stop short our education; and that we should share household chores so that we both have time to study."
(14-year-old girl from a Straight Talk Foundation club, Uganda, see Kyomuhendo Bantebya et al., 2015)
For more on this, read the ALIGN girls' clubs curation, and access a recent review by Gender and Adolescence: Global Evidence (GAGE) of the impact of girls' clubs and life skills programmes, also available in Featured Resources below. 
Backlash. Efforts to promote gender equality frequently lead to backlash. There appears to be limited evidence of backlash related to the promotion of gender equality in school settings (there is more evidence concerning informal education). 
Insight
Does gender equitable education improve learning outcomes?
Marcus and Page's rigorous review of school environments and girls' learning and empowerment brings together evidence which provides insights to the answer to this question. There are few comparative studies with control groups; however, evaluations of projects that promote more gender-egalitarian learning environments suggest that they can help improve learning outcomes for girls and boys alike. Evaluations of Transforming Education for Girls in Nigeria and Tanzania (TEGINT), Camfed's Learner Guide programme in Tanzania and Zimbabwe, and Plan's Building Skills for Life programme all found evidence of improved exam pass rates in participating schools. Qualitative evidence of the gender-responsive pedagogy approach pioneered by the Forum for African Women Educationalists (FAWE) also shows increased engagement in learning among girls and boys. 
Sources: Marcus and Page (2016); Mascarenhas (2012); Para-Mallam (2012); Camfed website; Wanjana and Njuguna (2015)
Citation
Marcus, R. 2017 Education and gender norm change, ALIGN, London, UK
Featured Resources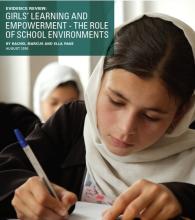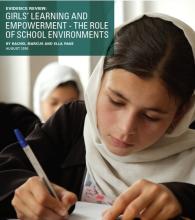 This report examines evidence on the role of school environments and different pedagogical approaches in boosting girls' empowerment and academic outcomes. It probes evidence on how these changes associated with school attendance take place, and the factors that can undermine these change processes, such as limited economic opportunities or rigid gender norms.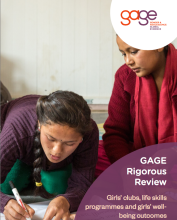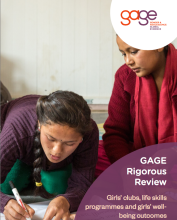 This rigorous review synthesises studies on the empowerment impacts of girls' clubs and life skills programmes with a gender equality focus. All programmes provided life skills education, which focused primarily on sexual and reproductive health (SRH), communication skills and changing gender norms.